Wow!  I cannot even tell you how grateful I am.  Thanks to all of your "likes" and "repins," I was the top Style Spotter for the April 2012 High Point Market!   I am practically speechless over the honor.  The best part of winning is that it means I will be back as a Style Spotter for the October 2012 High Point Market .  There were so many amazing products that it was nearly impossible to choose twenty-five favorites … and now I'll have twenty-five more in the fall.  Yay!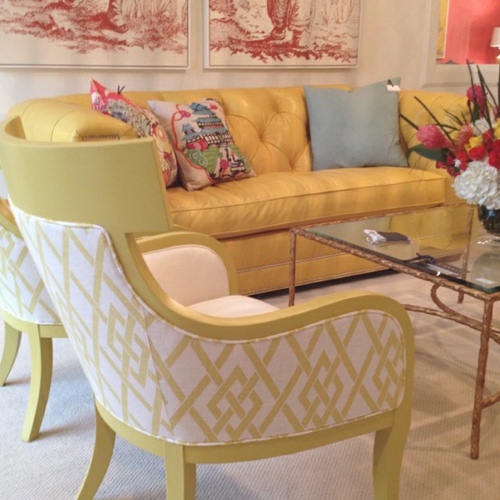 Can I take a minute to say that you absolutely must visit the other Style Spotters' Pinterest boards?   Shay's photo of the C.R. Laine  Iliad Chair was the most repinned "style spot," and I am not surprised.  As soon as I saw this gorgeous vignette, I knew it was a winner!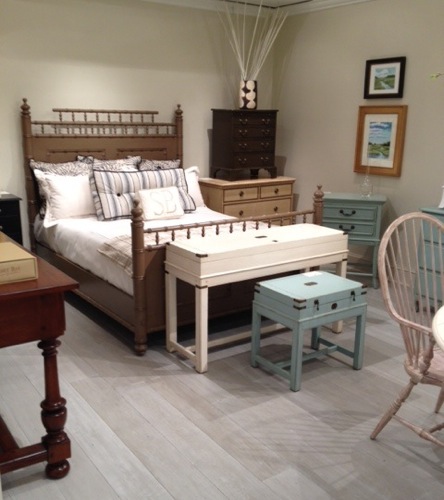 But now I'm going to devote a few blog posts to the beyond fabulous products that didn't make my top twenty-five choices — or anyone else's, for that matter.  Why didn't anyone choose them?  It's definitely not that they didn't deserve it!    By the end of my time at market, I was wishing, wishing, wishing for at least five more "style spots" to hand out.   Do you like how I foreshadowed that you'll probably get five posts on products I didn't choose?  I'm super sneaky like that.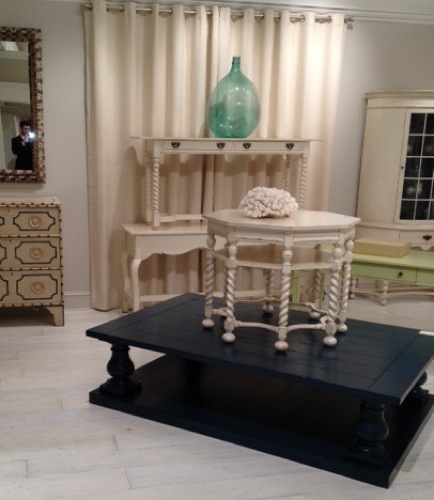 The Somerset Bay showroom — which is always a favorite — featured the newly introduced Somerset Bay by DuChateau hardwood floors.  Aren't they stunning?  I am so crazy about the colors they come in!
Painted and hand-distressed, they are proudly made in the USA … and carry a warranty on the finish.  I was floored — hahahahaha — by how beautiful they are in person.   And I see a lot of hardwood floors so I don't consider myself particularly easy to impress.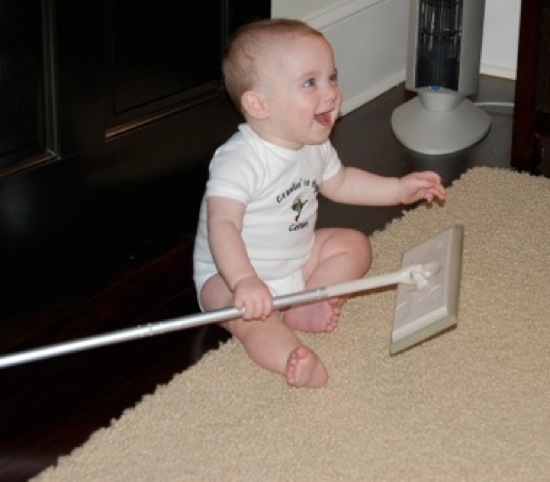 Hardwood floors are a fantastic choice for moms of multiples … in all rooms.  Wood is softer — and warmer — on little hands and knees than stone or tile and easier to clean than carpet.  And hey, with a Swiffer or a dust mop, you can entertain your little ones and get clean floors at the same time.  Score!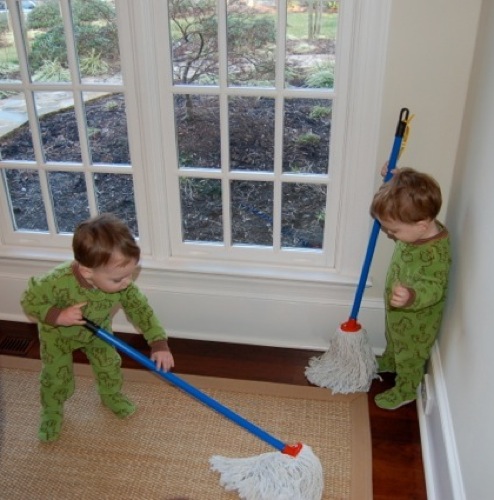 Do your kiddos "clean" the house?
Photos by moi.  While Twin B "swiffered" in the first photo, Twin A was carrying a dog toy in his mouth.  You win some, you lose some.