Have you ever — and I mean, ever — washed your hands nearly so often as in the days after you brought your babies home from the hospital?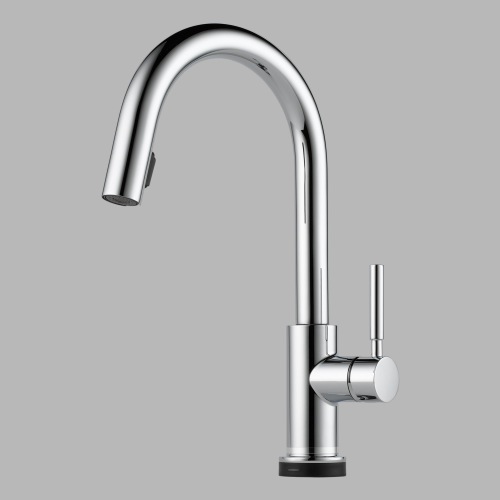 I dare say not much in a home gets used more often than a faucet, but between banishing germs — multiples are often premature and especially susceptible to illness — and dealing with baby blech of all kinds, the faucet really gets a workout during those newborn days.   Aaaand let's not forget being home 24/7 and sleep-deprived.  
Of course, once you've survived reflux and diaper blowouts, you think you are home-free.  Not so fast, sister.  Now your kiddos are the ones touching all kind of nasty things … and they aren't nearly so eager to wash it off.   Yes, this is worse.  What's this?  Oh, just a picture of my boys with their cousins … searching for worms TO HOLD.  I can unequivocally guarantee you that I did no such thing in my childhood.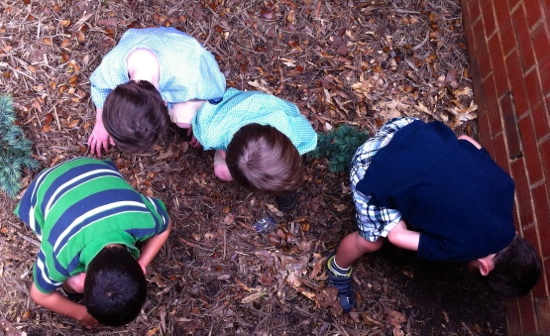 Yep, after all of this joy, it's no wonder that — while I was reveling in the excitement of Mercedes-Benz Fashion Week — I was equally as taken by the SmartTouch Technology available on Brizo kitchen faucets.  This is a twin mom's dream come true!   All you have to do is touch the faucet anywhere on the spout or handles, and the water turns on.   No more using your elbow to turn on the faucet after a particularly disgusting … ummmmm … incident.  And when your kiddos are old enough to wash on their own, even better!   Faucet handles — particularly cross handles — can be difficult for small hands to manage, but that's not an issue with touch-sensitive faucets.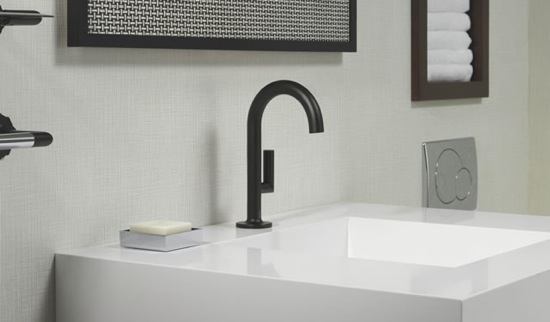 I'm even more excited about the Hands-Free Technology — launching any minute — on Brizo bathroom faucets.  These faucets "sense" when a user is in close proximity and automatically turn on the water.  Simply touch the faucet anywhere to turn it off.  If your twins accidentally — or not so accidentally — turn it on?  The faucet automatically turns off after a minute.  Genius!   Oh, and because there is no "eye" like the notorious faucets in airport bathrooms, for instance, this technology is far more reliable.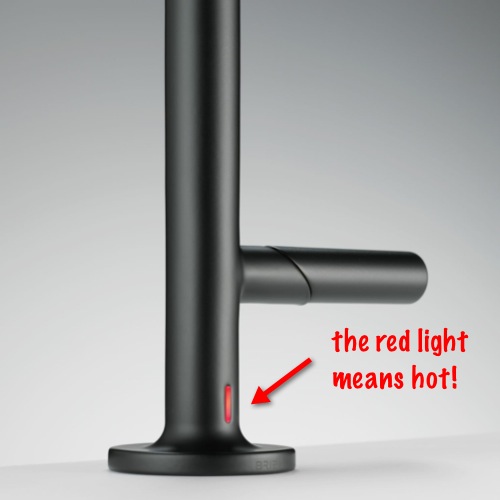 An LED light indicates at what temperature the faucet is currently set, and the hot water factory setting is at 105 degrees maximum.  That is especially important for moms of young twins because — no matter how high your water heater is set — the water temperature at that particular faucet will not go above 105 degrees.  Water heaters should always be set at 120 degrees or below to reduce the risk of scalding, but — when it comes to safety — this mom loves a double- and triple-check.
It's not too difficult to find an attractive faucet — and you all know I'm not interested in sacrificing style for function — but discovering products that are as technologically savvy as they are fashion-forward … well, that's a good day at the office.  Is it just me, or do you hear the choir of angels singing, too?  
What do you look for in a faucet?
Product photos from Brizo.  Thank you again to Brizo for taking me and eighteen other designers to Fashion Week; it was a once-in-a-lifeime treat!  Twins digging for worms and unsolicited opinions … that's all me.