Having just wrapped up the Traditional Home showhouse in Dallas, I've been watching excitedly to see the gorgeous rooms that I knew would come out of the Southern Style Now showhouse in Savannah. Y'all, I have been blown away! Ah-may-zing. How about some equally-as-incredible fashion pairings so we can all capture the spirit of those rooms in our everyday ensembles?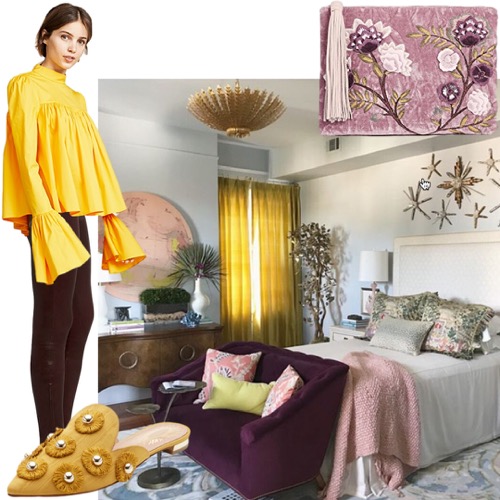 First up is this fantastic bedroom designed by Kara Cox. Hello, azalea and marigold! This more saturated version of my long-time faves, pink and yellow, is killer — and I love it just as much in fashion as we do in Kara's beautiful design. Simply pair those J Brand mid-rise super skinny leather leggings (and wouldn't those go with everything?!?!) with the "James" blouse from Caroline Constas, slide on the to-die-for Aquazzura sunflower studded mules, and grab your Sam Edelman Azalea clutch (that's what I call bang for the buck) … and you'll be (a) out the door in a flash, and (b) getting more compliments than you can count. Extra bonus points if you get to come home to that dreamy bedroom!
I've always loved the overlap between interior design and fashion, and I'm excited to bring you more of that here. You'll find more pairings on Instagram at #styledbytzi, and of course, I share my everyday inspiration at @tracizeller.
What do you think about this color combo? I. Want. Those. Mules.
PS: Wondering why I'm saying TZI instead of TZD? We're doing a bit of branding work, and you'll see a fresh new look — and slightly tweaked name (Traci Zeller Interiors) — in 2018!