Yesterday, I told you about the "designers' challenge" that Amanda over at AB Home Interiors put together … and here's what I came up with!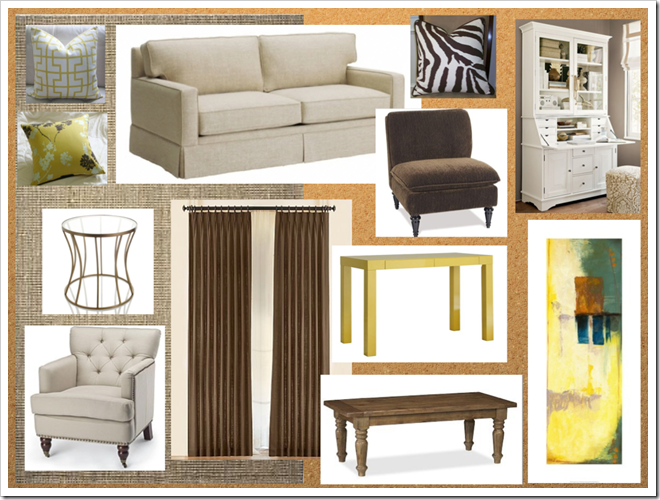 My goal in this challenge was the same goal that I have for all of my clients – to create a classic, sophisticated, polished space … that fits their budget and their lifestyle.  Personally, I favor a neutral background with interesting art and pops of colors.  Naturally, that's what my hypothetical clients like, too!  Hee hee hee.   I also really wanted some luxe pieces to upgrade the whole look of the room.  It's like the idea in fashion that – if you have on fabulous shoes and are carrying an amazing bag – the rest of your outfit can be bargain basement … and no one will be the wiser.
Here's how I arranged the room –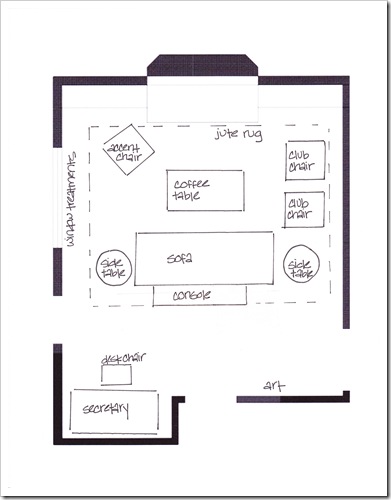 Basically, I wanted to create two groupings – one, a roomy conversation area and the other, a secondary space where family members could work, study,  use a computer or even play a game – as well as preserve the walkways between the rooms.  I wasn't too fussed with the measurements because I knew no one would be replicating this room exactly.  So my drawing is just a freehand sketch (read – not to scale) that I used to figure out what pieces I was looking for.
With that being said, here's my shopping list:
West Elm Jute Boucle Rug (shown in flax, priced as 9' x 12') – $299
Jasper sofa from Flores Designs (available from Nest Furnishings) – $999
Overstock's Manchester Club Chair – $305.99 each, so $611.98 total
Avenue Six Armless Chair in Diamond Java – $241.82
Nate Berkus for HSN Hourglass Side Table with Glass Top – $149.95 each, so $299.90 total
West Elm Parsons Desk with Drawers (used as sofa table, shown in polished tumeric) – $299
Pottery Barn Hyde Turned-Leg Coffee Table – $399
Restoration Hardware Textured Linen Drapery (shown in mocha, priced as rod pocket style at 96"L x 100"W) – $319 each panel, so $638 total
Aquamarine Aura V by Jennifer Goldberger limited edition print (priced as matted and framed) – $294.99 … but we are going to use one of art.com's frequent 25% off coupons, so $221.24
VintageJamie (on etsy) hanbok-inspired linen pillow cover – $47.50
Elegant Touch (on etsy) pillow in Bleeker fabric by Celerie Kemble – $55.00 each, so $110 total
Elegant Touch (on etsy) pillow in chocolate brown/ivory zebra – $40.00
Pottery Barn Graham Desk & Hutch – $1,439.00
That brings my grand total to $5,645.44.  Pretty good, huh?  That leaves $354.56, which I would use for accessories – hopefully to include a cashmere throw in deep sea.  That would serve two purposes – adding a luxe element and bringing out the blue in the art.
Of course, I was assuming a few things – mainly that the existing paint color worked with the new concept and that we could use a handful of pieces that the clients already owned (lighting, drapery hardware, some accessories and a pretty chair for the Graham Desk & Hutch).  If we weren't quite that lucky (!), my solution would be to buy a vintage secretary from Craigslist and paint it a creamy white … which would save the huge chunk of the budget (much larger than I wanted!) devoted to the Graham Desk & Hutch.  Then we'd have money for paint, lighting, and more.
To give you a little bit of insight into the process, let me explain some of the reasoning behind my choices.  The jute rug is reversible, so that will help to preserve its good looks a little bit longer.  The Jasper sofa is a great sofa for the price … and it is certainly worth it to devote 1/6 of the budget to the main upholstered piece in the room.  Plus, we want a sofa to last and be comfortable!  Flores Designs also has a nice selection of comfortable, durable fabrics, including ultrasuede, available with no to minimal up-charge.
The hourglass side tables – despite their low price point – are hand-crafted.  The metallic finish also adds a jewelry-like accent to the room.  The Manchester Club Chairs from Overstock.com are an amazing price.  I love the tufted back – because the chairs will never look messy – and the nailhead trim (more luxe!) makes them even more special.
Pops of color and pattern come from that fantastic Goldberger print, great pillows (luxe Celerie Kemble fabric!), and the polished tumeric parsons table.  The parsons table and secretary are so practical.  Think storage, homework, children's computer time, bill-paying and more.
The Restoration Hardware drapes – another of our luxe elements – are lined … and a very nice quality for the price.  I assumed an 8 foot ceiling, so if we hung the drapery right below the ceiling, we'd get a nice break to slight puddle on the floor.  Oh, and we would definitely use drapery hooks to hang the panels on rings.  It's a huge upgrade to the look!  Notice that I got the 100" width panels for this window.  Having the extra fullness really adds to the custom look.
Eventually, we could add a few more pieces to the room – for example, ottomans tucked under the Parsons table.
Whew.  That was a mouthful … and I could definitely keep talking – but you might be bored at this point.  So what do you think?
Don't forget to check out what my colleagues come up with –
Kelly Berg of Arte Styling
Kelly James of DesignTies
Dayka Robinson of Meditations on Life and Style
Kathy Passarette of Creative Home Expressions
Amanda Burdge of AB Home Interiors
Susan Snow of Moving Designz
Amanda, thanks for coordinating this fun challenge!