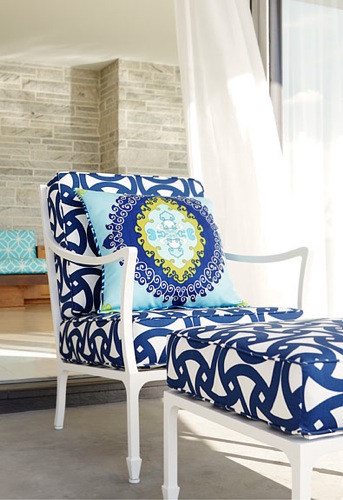 The intersection of fashion design and interior design is one of my favorite topics.  Really, it's more of a "tangled web" than an intersection because fashion and decor constantly overlap.  That's why you see pieces of fashion in shelter magazines and pieces of home design in fashion magazines.  In other words, fashion inspires decor and vice versa.
Plus, if you love design, you just plain love design … no matter what kind!  I love fashion design, interior design, industrial design, architecture, you name it.  I don't think you could find an interior designer who didn't enjoy clothes or a fashion designer who lived or worked in an uninspired space.  Plus, if you are creative in a design sense, it almost doesn't matter whether you are creating fashion or interiors.  To wit, many of my favorite fashion designers have been wildly successful with home collections – Armani/Casa, Donna Karan Home, Calvin Klein, and so on.  The list is practically endless!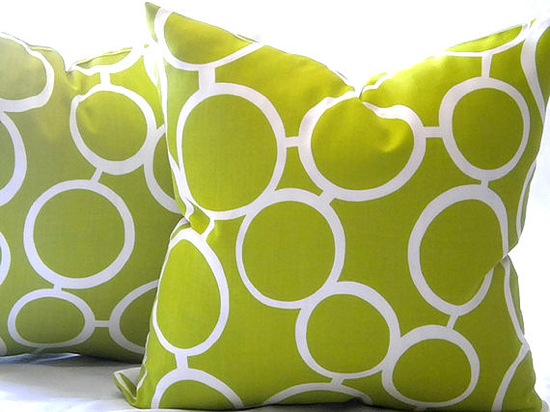 So I was delighted to find an email from Schumacher, one of my favorite fabric suppliers, reminding me about the Trina Turk for Schumacher collection of indoor/outdoor fabrics. Yummy!   Who doesn't love Trina Turk?  Her fashion sensibility is so very Palm Springs – happy, fun and cheerful – and she brings the same spirit to her home designs.  Check out the Sunglass Print in Parrot above … how fun is that?  I'm dreaming of a sunny day at the pool, fruity drink in hand and a pile of magazines by my lounge chair!
Chair photo via Schumacher.  Pillows for sale by Mica Blue on etsy.