It amazes me how something as wonderful as the Proximity Hotel can be so nearby, yet I'd never heard about it until I received a recent issue of Stir, the magazine put out by Sherwin-Williams.  For those of you who are also unaware, the Proximity Hotel is an eco-friendly hotel in Greensboro.  Actually, it's the first LEED Platinum hotel in the United States.   Here's a brief explanation (taken from the Proximity Hotel website) of what it takes to be LEED certified:
"[T]he building's design and construction followed guidelines of the Leadership in Energy and Environmental Design (LEED) Green Building Rating System,™ the nationally accepted benchmark for the design, construction, and operation of high performance green buildings. Developed by the U.S. Green Building Council, LEED gives building owners and operators the tools they need to have an immediate and measurable impact on their buildings' performance. LEED promotes a whole-building approach to sustainability by recognizing performance in six key areas of human and environmental health: sustainable site development, water savings, energy efficiency, materials selection, indoor environmental quality, and innovation in design. To earn LEED certification, a building project must meet certain prerequisites and performance benchmarks ("credits") within each category. … Projects are awarded Certified, Silver, Gold, or Platinum certification depending on the number of credits they achieve. This comprehensive approach is the reason LEED-certified buildings have reduced operating costs, healthier and more productive occupants, and conserve our natural resources."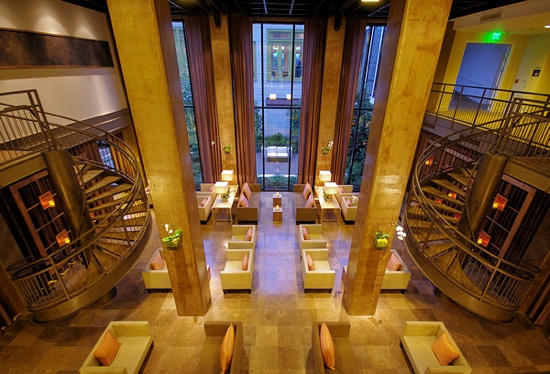 Wow!  That is really something North Carolina should be bragging about.  But here's the best part – at Proximity Hotel, you don't have to sacrifice luxury for eco-consciousness.  The hotel itself is fabulous … with an AAA four diamond rating to prove it.  With interiors designed by Bradshaw Orrell, original art by Chip Holden (a Lexington artist) throughout the hotel, Aveda bath products in every room, and The New York Times delivered six days a week, I wish I could move in!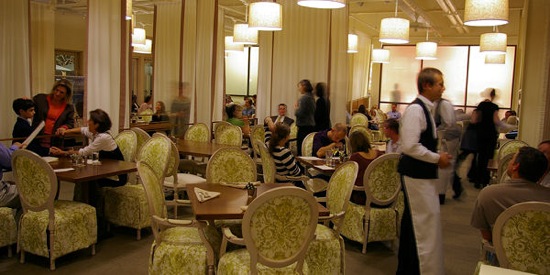 And the restaurant sounds amazing.  Hmmmm … maybe I should book an overnight as further research for my blog!
Photos from Proximity Hotel website.