One of the incredible parts about going to Hickory Chair University when I did (read my complete recap here, here and here) was the opportunity to see some new Thomas O'Brien pieces – months before they were introduced at this month's High Point Market – making their way through the workrooms. Hickory Chair has sold over $400 million worth of Thomas O'Brien pieces at retail over the last 10 years.  No, that is not a typo … and yes, that is a lot of furniture!  So you can imagine the excitement surrounding Thomas' new introductions, which make up the Library Collection.
Obviously, all of us at Hickory Chair University had to keep the details of what we saw totally under wraps.  I'm sure that plenty of overseas factories are already feverishly working to knock off Thomas' designs, and there's no way we were going to give them a head start!  Regardless, while other companies might be able to impersonate Thomas' designs, remember that they are definitely not replicating Hickory Chair quality … or Thomas' spirit, for that matter.
Here's the first sneak peek that we got – it's the new Veneto chair in the upholstery workroom.  Here, Hickory Chair's skilled craftspeople are working hard on the frame, making adjustments in areas where either they or Thomas had not been completely satisfied.  Actually, Thomas was coming to Hickory Chair later that week to give his final approval … so everything needed to be finished … and right!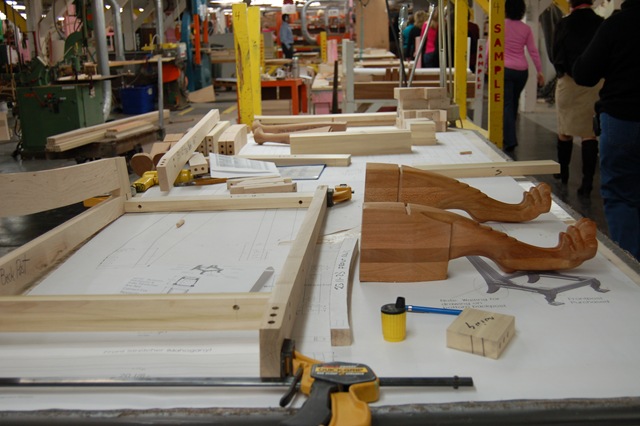 Can you see the incredible detail on that chair leg … or are you blinded by the fabulousness of my safety glasses?  For the record, I did not choose those glasses to color-coordinate with my jacket!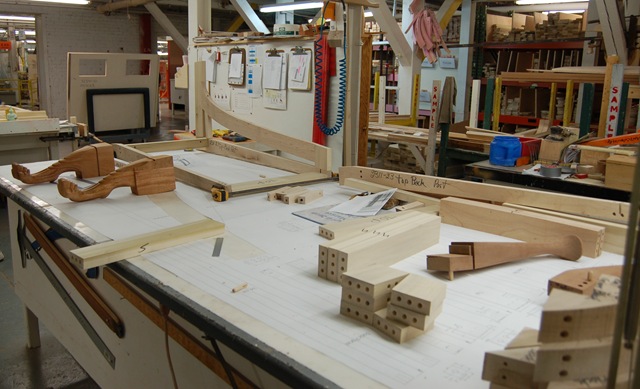 Take a minute to appreciate how many pieces go into making this incredible pieces.  Clearly, it's no small undertaking …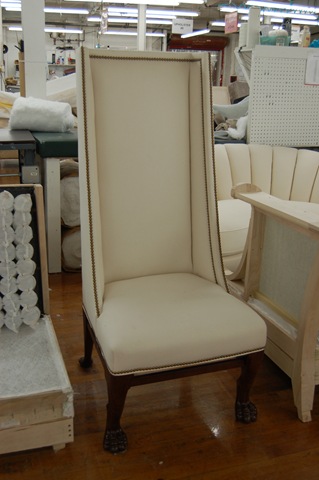 And here's a finished prototype, upholstered in muslin.  It's fantastic just like that, isn't it?  I love the high back, the nailhead trim, and – of course – the mahogany feet.  No one – even Thomas – is going to be using this chair to relax in a movie room, but it is absolutely perfect for a library or office.
Just wait until you see the finished version, sitting in the Hickory Chair showroom!  I'm such a tease, aren't I?