Are you one of those that finds it impossible to visualize a finished room … especially when it's empty?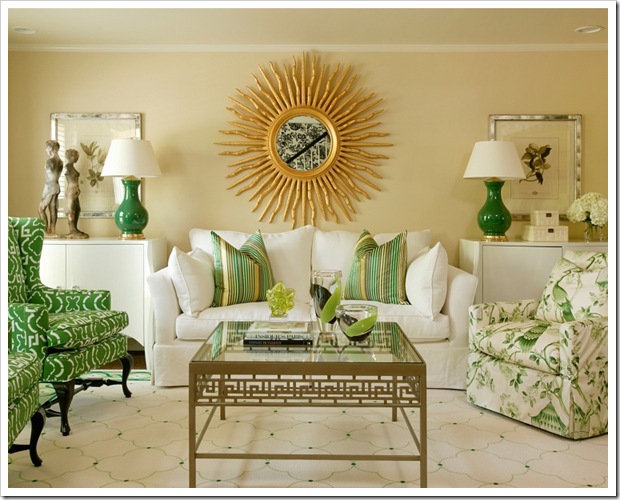 The Barbie Dream House is still under construction, so Dream Date PJ and I had nothing but wide, open spaces when we talked about how to arrange her existing furniture … and what other pieces she should be searching for.  Of course, I can – and will – do a 1/4 inch scale drawing, but sometimes clients really need to "feel" how the furniture will fit in a room.  This is especially true in new construction – and sometimes, you really have to get it right, for electrical placement at the very least.
In those cases, I whip out my life-size furniture templates.   Yep, I bring what are basically very large pieces of craft paper to recreate the footprint of each sofa, chair, table – you name it.  It's brilliant!  With the "footprints" on the floor, you can really get a true sense of the room – from traffic patterns to sight lines.   Often, that's exactly what the client needs to be convinced!
In PJ's case, we realized that her new family room really needed two sofas, instead of a sofa and a loveseat.  I'm so pleased because I think the pair of sofas will be soooo functional for her family … and look fantastic in the space.
Interested in some templates of your own?  Well, of course you can make them out of an enormous role of craft paper.  I, however, bought mine from Design Yourself Interiors … mainly because they have a really complete set, I'm bound to need most of them eventually, and I can't imagine how long it would take me to put together exactly what I got in the Design Yourself Interiors kits.  I also found this provider – Lay-It-Out lifesize furniture templates – but at least at first glance, it appears that the Design Yourself Interiors kits contain a lot more in the way of different sizes, pieces, etc.
Photo from Tobi Fairley.  Don't you love those green chairs??