Ta-da! The Holiday 2014 issue of New York Cottages and Gardens has arrived, which means Lisa Mende and I can finally share the Big Reveal of our Ronald McDonald House of Long Island project.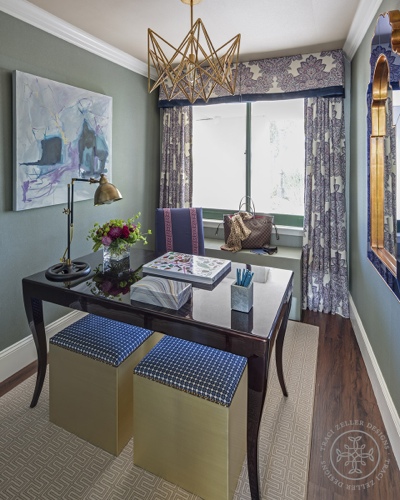 During times of personal crisis, it can feel as though time has stopped. But somehow the world keeps turning … which means bills still arrive, phone calls need to be returned and appointments must be made. As difficult as it is to deal with those things during a crisis, it's even more difficult to manage when you don't have a space in which to work. To address that need, Lisa and I created a shared business office for families to use during their stay at the Ronald McDonald House.
Do you remember where we started? It was such a joy to turn this dingy, cramped space — not even 100 square feet — into a warm, cozy office for families to conduct personal business.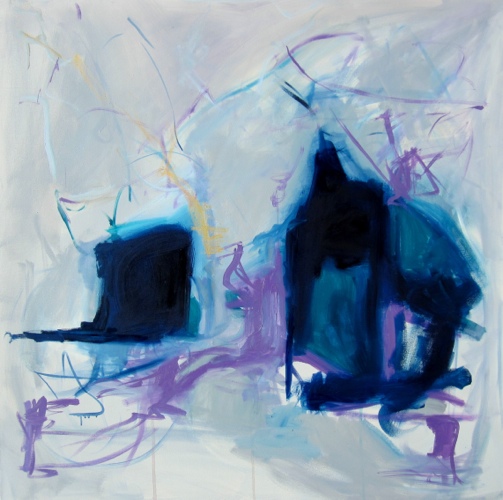 "Cocoon," the gorgeous original painting by Kerry Steele, served as the inspiration for our entire space. Lisa and I hope that families staying at the Ronald McDonald House feel sheltered and "cocoooned" as they fight the illnesses that brought them to Cohen Children's Medical Center of New York. I pray that those families feel enveloped, supported and strengthened by the love of everyone who worked on, donated to, and cared for this amazing house.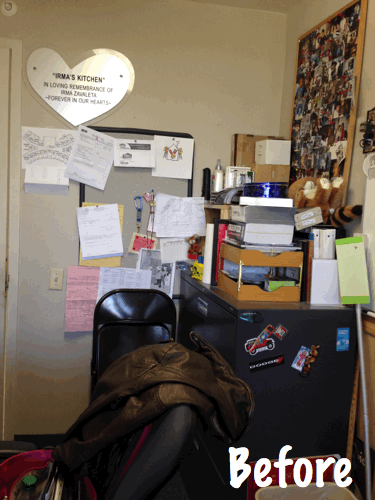 Do you need a home office that nurtures your spirit? This project shows that even the smallest space can be transformed into a beautiful and functional office!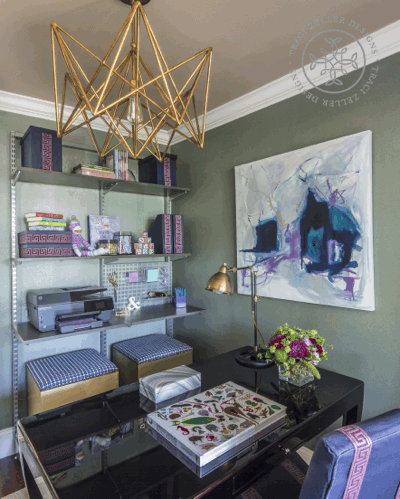 Over the next few days, I will share five key design techniques that Lisa and I employed to transform this "tiny hovel in the corner" (what I jokingly refer to as our specialty). Please reference all prior conversations about the Traditional Home showhouse at Adamsleigh.
1.  Float the furniture
2.  Think UP … and modular
3.  Texture, texture and more texture
4.  To quote Mies van der Rohe, "God is in the details"
5.   Lighting is everything
Lisa and I are enormously grateful to everyone who donated, sponsored or otherwise contributed to the Ronald McDonald House project. I will share more on the blog about these companies and extraordinary individuals, but for now, please join me in thanking Thibaut, Kravet, Stanton, Duralee, Kerry Steele, Hunter Douglas, Taylor Burke Home, Currey & Co., Bunny Williams Home, the adorne collection by Legrand and House of Laurence.
From the bottom of my heart, merci!
For more photos of the newly designed spaces at the Ronald McDonald House of Long Island, be sure to pick up NYC+G or click through to the online gallery. Interior design by Lisa Mende and Traci Zeller. Photos by Marco Ricca Studio.