Space planning is always the #1 challenge in a teeny-tiny room like the one Lisa Mende and I tackled in the Ronald McDonald House!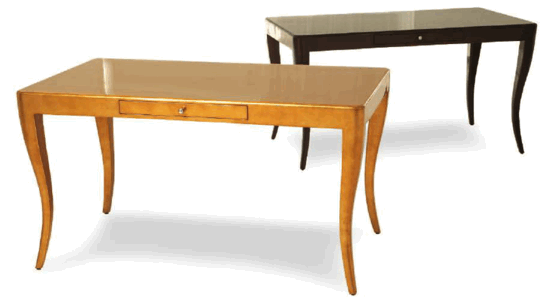 Our very first selection was Kravet Furniture's Paris Desk in Dark Bronze lacquer. The Paris Desk is beautiful from all angles … which meant Lisa and I could now float the furniture.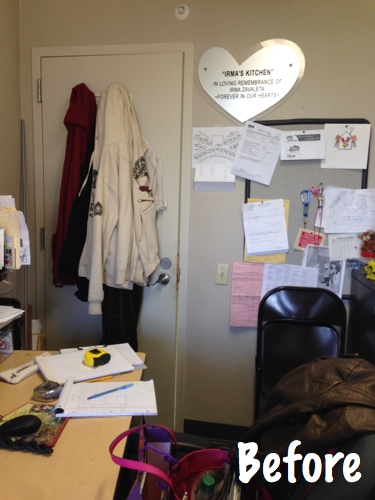 In the "Before" photos, you can see that both the bulky desk and the filing cabinet were jammed against opposite walls. By floating the desk in the center of the room, everything felt much airier — like there was now room to breathe (Tip #1)!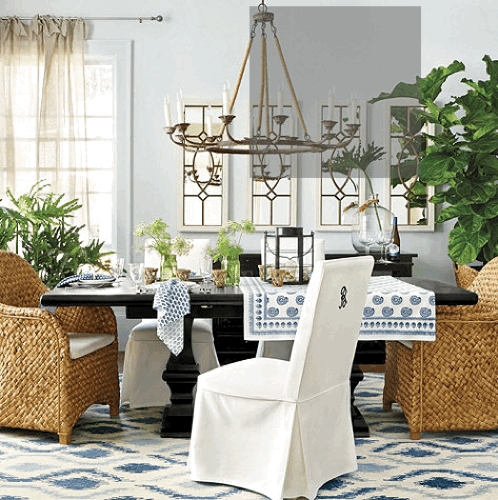 Floating the furniture won't always be the answer to space planning in every small room. If this were a sitting room, for example, we probably would have taken advantage of every corner to create additional seating. In this small office, however, we only needed primary seating for one person — and we didn't want that person to feel wedged into place. The slipcovered Parsons Chair with Casters by Ballard Designs makes it easy to maneuver around the desk. Plus, the armless style (Tip #2) is less imposing in the room.

Floating the desk also meant that a person sitting at the desk is able to face the office door (Tip #3). It's awfully disconcerting to be "snuck up upon" … which is exactly what could happen if the desk faced the wall. Lisa and I replaced the existing solid door with a glass door, which made the room feel much more open. From a functional perspective, it also gives a parent the ability to maintain privacy and watch their children at play in the seating area across the hallway.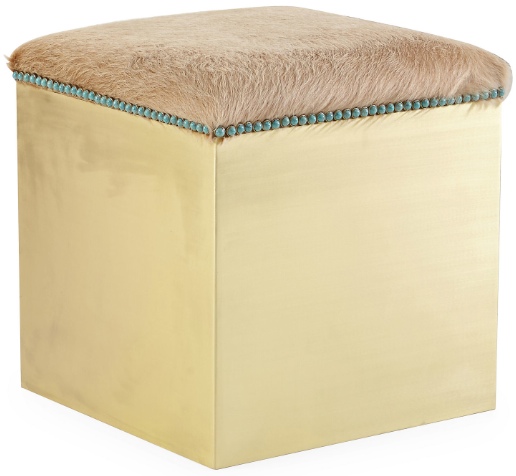 And if an additional person needs to pull up a seat? Two gorgeous Kate Brass Ottomans from Taylor Burke Home are easily accessible … yet tuck neatly under the desk or modular shelving unit when not in use (Tip #4). Talk about a whole lot of style in a small package!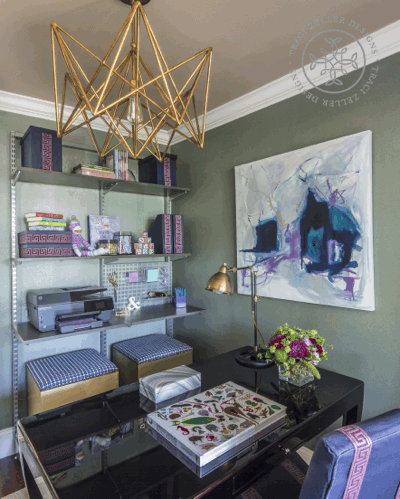 Last but not least, Lisa and I installed a modular shelving system from The Container Store. Our horizontal space was — quite obviously — very limited … so that meant we needed to think UP (Tip #4)! Even without particularly high ceilings, you'd be amazed how much shelving you can install and storage you can create. Because there's little need for permanent storage in this space, Lisa and I chose to use three shelves.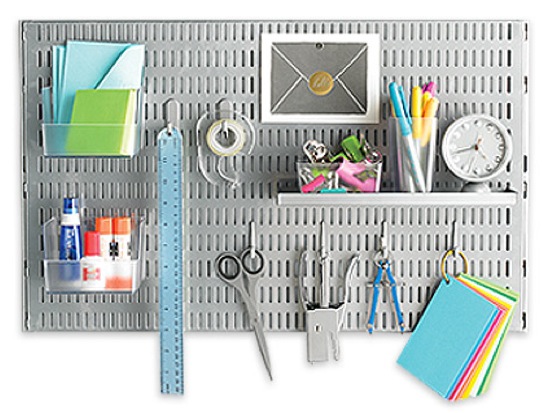 If you look closely, you'll notice that the bottom shelf is deeper than the top two shelves. That way, it could accommodate the printer and also be used as an extra desktop in the future. Or maybe one of the kids wants to color while Mom or Dad works! The utility board keeps office supplies close at hand without taking up valuable countertop space (Tip #5).
How is your home office arranged?
Product photos via Kravet, Ballard Designs, Home Depot, One Kings Lane, and The Container Store. Lisa and I are incredibly grateful for generous donations by Kravet, Ballard Designs and Taylor Burke Home.