Alas, yesterday afternoon meant it was time to head home from High Point.  There are not even words to describe what a great time I had.  Of course, I am now back in the throes of mommy-hood, so it's going to take me a couple of days to be able to sum up everything I saw.  Nonetheless, I can share the highlights in a few short words:  It was incredible to make new friends and enjoy "old" friends … in real life instead of just via email and blog comments.  To wit –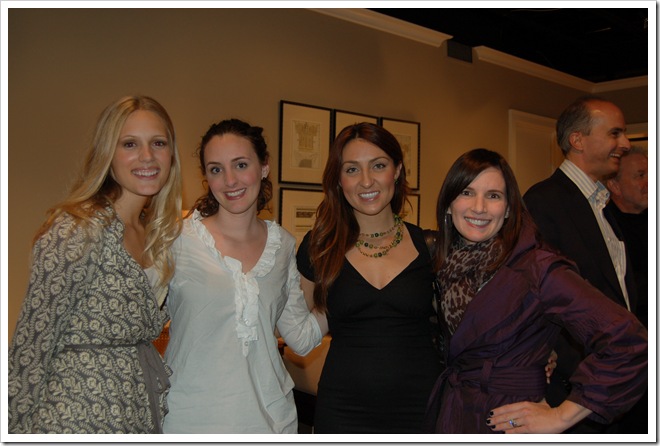 Lauren, Bryn and Crystal – three of the sweetest people ever!!  Bryn (from Bryn Alexandra Interiors) lives in Charlotte, so I've been fortunate enough to get to know her in real life.  Lauren (from Pure Style Home) and I, however, had just talked over email and she is awesome.  Crystal (from Rue Magazine and the Plush Palate) and I had never met, even virtually, and she is just fantastic.  Both Lauren and Crystal have unbelievable projects coming up – including the next issue of Rue Magazine for Crystal – and I just cannot wait!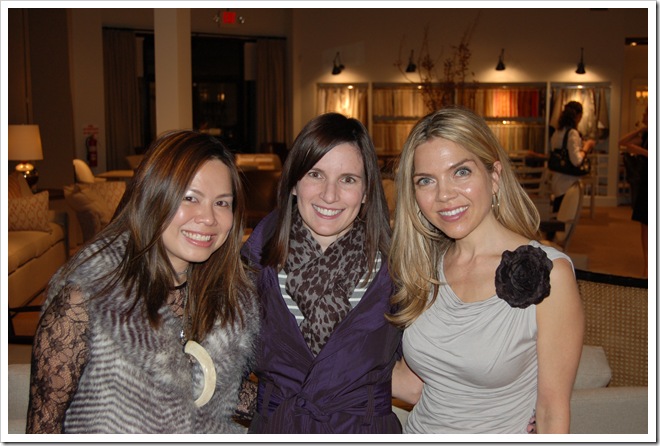 May (from Snug Furniture and Frou La La) and Franki (from Life in a Venti Cup) are both dynamos!  I think May and Franki must never sleep because they are constantly on the go.  May was swamped with Snug Furniture's debut at High Point Market, and Franki had showroom appointment after showroom appointment.  Be sure to check out Life in a Venti Cup because she's got some exciting things to share … one of which includes an Alexandra chair.  Be still my heart!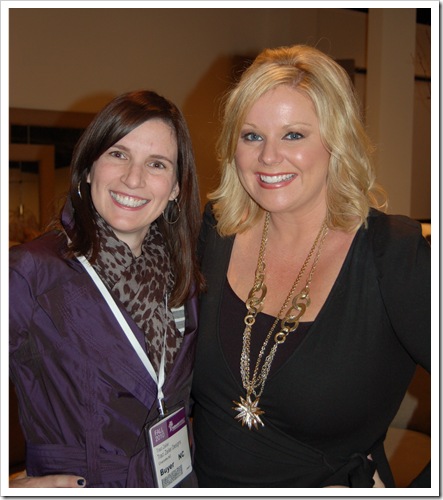 Is Shay (from Designer Detective) not the cutest mommy-to-be ever?  You cannot even tell that she's pregnant!   I'm standing on my tippy toes here so that I don't look like an oompa loompa next to her.  Shay kept a full schedule at High Point, including hosting a tweet-up at my perpetual fave, Hickory Chair (more on them to come!), and picking out nursery furniture for her sweet little girl on the way.  Priorities, people!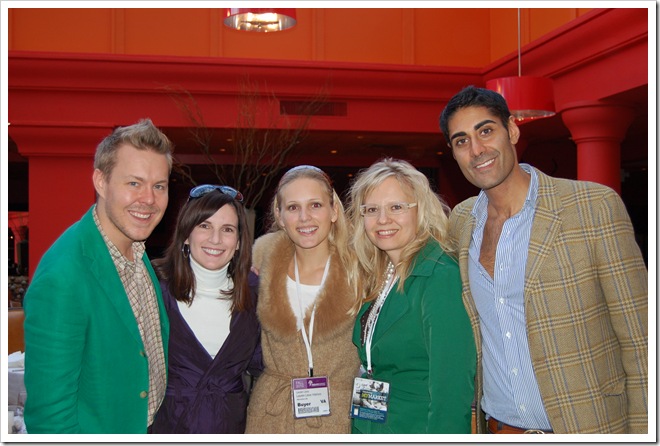 Last but not certainly not least is the picture of my High Point BFFs. Maria (from Colour Me Happy) was my roomie, and we had a blast!  I haven't seen her since my trip to Vancouver, and it was so great to spend some real time with her.  High Point would not have been the same without her.  Maria, thanks so much for letting me bunk up with you!  You are an incredible designer, an unparalleled colorist, a mentor to many (including me!) and a great friend.  Maria, Lauren and I made our way around market together, and it was a blast.
Eddie and Jaithan (yep, the Eddie Ross) were in town to give a talk on creating "buzz" – and who knows that better than they do?  Lauren knows Eddie and Jaithan from their very first flea market trip, and they joined us for drinks at the Proximity Hotel on Saturday night.  Let's just say we were up way too late … and had way too much fun!  I love E+J even more now that I've met them in person. Back to pouting about being out of town during their sold-out flea market trips to Charlotte's Metrolina Expo.  (By the way, Charlotte readers, if you didn't email for your Metrolina reservation in time, you can still meet them during their visits to Mrs. Howard and Interiors Marketplace.)
Oh, there's even more.  I cannot believe I didn't snag a photo with Amanda (from AB Home Interiors).  Darn it!!   She is just as fun in person as you would expect.  Her cute mom was along as well.  How fun would it be to buy for your furniture store with your mom in tow?  Shay is lucky that way, too!
Dinner on Saturday night was with new friends Brooke and Steve (from Velvet and Linen and Giannetti Home), Angela (from Giannetti Home Design Online), Liz and Benji (from Dovecote Decor),  … and the one-and-only Bobby McAlpine.  Seriously.  I was in the presence of greatness.  Bobby had a house plan sketched out on a tiny piece of paper.  Can you even imagine how incredible it would be to have him design a house for you?  Unfortunately, I don't have any pictures of that dinner group on my camera, but hopefully Lauren, Maria or Liz will share one soon.
Can you tell that I had the best time?  And that doesn't even count looking at the wonderful new furniture and accessories.  Stay tuned for a recap of that very soon!
PS – Don't forget to check out Kirsten's series on Good Design with Kids in Mind!
10/20 Update: Brooke posted a photo of our dinner table.  Why does everyone look fabulous … and I have my eyes closed????  I'm praying someone else's camera got a shot with my eyes open .. .either that or a Photoshop expert out there gives me some open eyes!