* This giveaway is now closed.  Congratulations, Catherine! *
I often recommend that moms of twins use fewer, larger accessories rather than more small ones.  Why?  Visually, I find it has greater impact.  Practically, it's a lot easier to keep up with!   Would you rather fluff one pillow or five?  Rearrange three objects or thirteen?
Today's five minute fix — something that a busy MOM can do quickly and relatively inexpensively — takes that little trick to the bedroom.  I don't think that sounds exactly how I meant it.  Minds out of the gutter, peeps.  We already have twins, right?!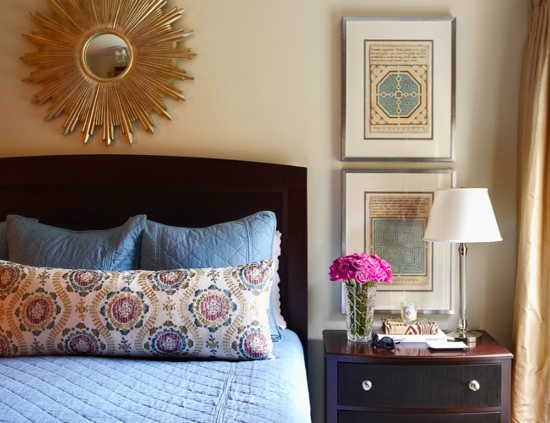 Adding a large bolster in front of your bed shams is an easy way to upgrade the look of plain bedding … and inject a little bit of pattern into an otherwise solid space.  Another bonus?  You can splurge on a more expensive fabric because, depending on the size, a bolster only requires a couple of yards (or less).  The bolster also won't get the wear and tear of the linens you actually use, such as the comforter or sheets.  Surely I'm not the only one who has had a twin arrive with the news he is about to be sick?  It's an oh-so-pleasant way to wake up.  Or not.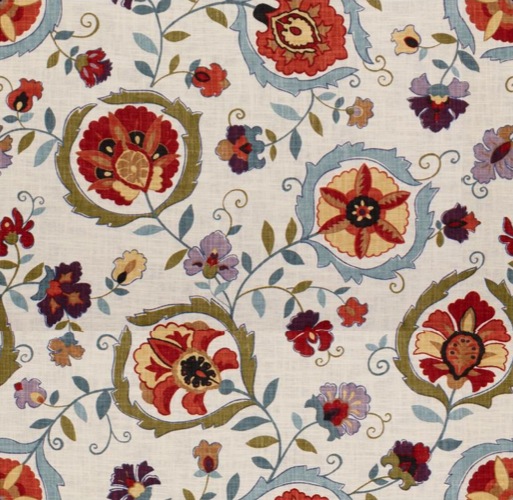 Remember how I used a custom bolster in the Queen City Exclusive article?  Now I'm giving that bolster to one lucky reader!  The bolster was fabricated by my fantastic workroom using Suzanne Kasler's Montmartre fabric for Lee Jofa.  If you've been reading for a while, you know I'm a huge fan of this fabric … partly because you can take it in so many different directions!  Blue, red, lavender, green — the Montmartre fabric uses all of these colors beautifully.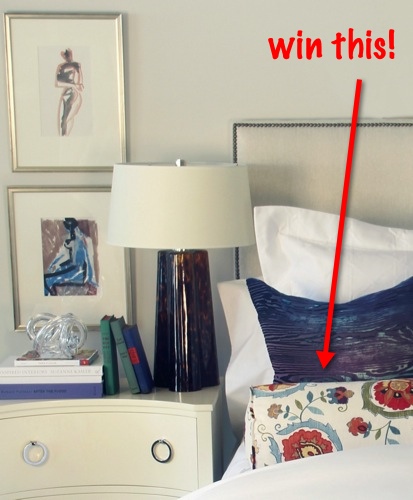 To enter, just leave a comment … and be sure I have your contact information!  The contest will close at the end of the day on Wednesday, November 14.  None of the other bedding is included in the giveaway, but — if you feel so inspired — you can check out the Queen City Exclusive article and learn how to recreate the entire look!
How are your bed pillows arranged?
Interior design by traci zeller designs.  Top photo by Dustin Peck Photography.  Fabric photo via Lee Jofa.