Am I the only one who is practically singing "TGIF"?  I've been home all week with an allegedly contagious — but at this point, totally asymptomatic — twin.  Only having one in preschool has put a crimp in my work week … but I must admit I have kind of enjoyed it.   It's so much easier only getting one preschooler out the door!  Not to mention that "alone time" with one twin is not something that happens as much as I would like it to.  Anyhoo … whether I'm getting one boy to preschool or two … I absolutely could not live without my "drop zone" — which is why creating one is today's five minute fix!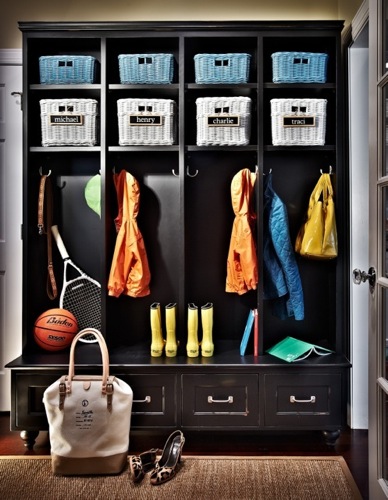 traci zeller designs
A drop zone — a place where you can (almost) literally drop your things when you come in the door — is one of the most functional areas in a busy house … and something I always look to create for my clients.    In my family, we usually enter the house through our garage.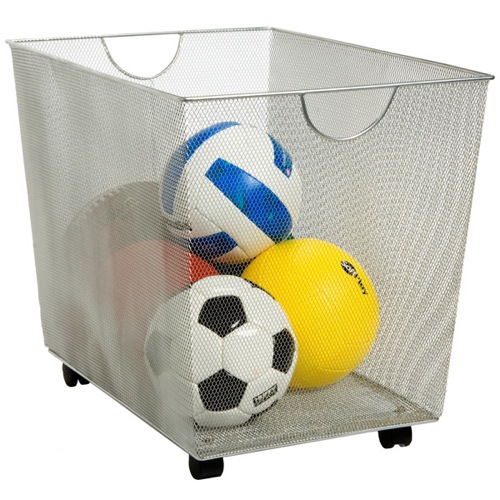 Right by the door to the house is a wire bucket where all kiddos (twins, cousins and friends — no exceptions) drop their shoes.  At least with preschoolers, there is a very good chance that they have been in the sandbox … and their shoes are waiting to be emptied.  Personally, I'd rather that happen in the garage than on my kitchen floors!  Something like The Container Store's Silver Mesh Rolling Bin would work great — but a client of mine recently found a great-looking wire basket  (sans wheels, which I actually prefer) at HomeGoods for a steal.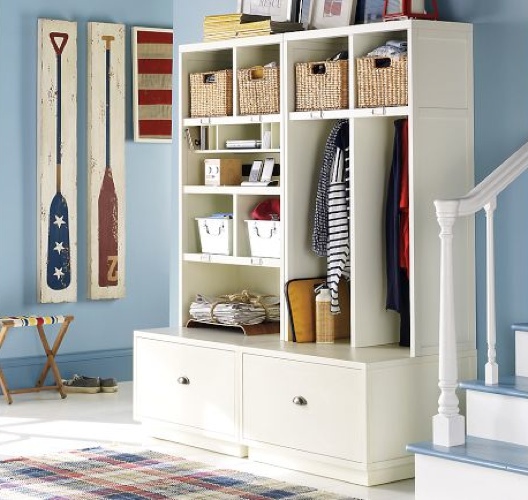 Just inside is our "mudroom" — although the word "room" makes it sound a lot larger than it is.  It's pretty much a large closet / hallway combo … but it is large enough for the custom locker unit I had built — with one locker for each family member (shown in the first photo).  Oops, except our Maltese, who thinks she is a person.  Sorry, Coco; you have to bunk up with Daddy.  Custom was the best option for us given the design I had in mind — four lockers, each with a drawer — in our somewhat limited space.  You may also be surprised at what a great value custom craftsmanship can be!  But there are great "prefab" options available, though, from big box retailers such as Pottery Barn (the modular Brady system shown above) and smaller companies like Sawdust City.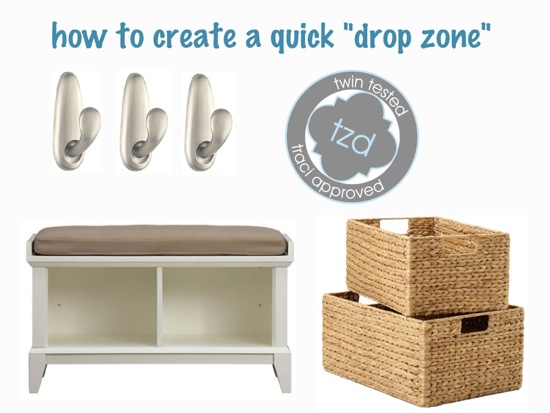 Not ready to invest in a full system?  No worries!  A drop zone can be as simple as pairing Command hooks with an entry bench.  I love their metal hooks for their good looks, inexpensive price, and damage-free hanging … anywhere.   With a weight capacity of up to five pounds, they are perfect for hanging a jacket or child's backpack.  Just don't try heavy textbooks.  Use a bench like Crate and Barrel's Paterson White Storage Bench as a place to store gloves and hats in winter or sunscreen and bug spray in summer … and a place to sit while you are getting yourself together before leaving (or disassembling upon returning home)!  Baskets in the open cubbies would hide those little necessities or — if your husband is anything like mine — the numerous (and random) things he unloads daily.  And there you have it … (almost) instant entryway organization!
How do you keep your family organized?