T.G.I.F.  — and boy do I really mean that this weekend!  Tuesday marked my twinks' return to preschool from spring break, my babysitter's return from a two-week vacation … and maybe, just maybe, my return to sanity some semblance of a normal routine.  I did manage to get at least one thing done — acquiring these.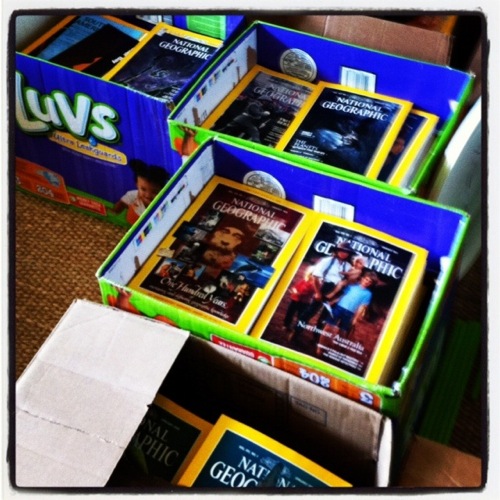 So what do you think I'm going to do with them?   I'll give you a hint … and another … and another.
Isn't that an easy breezy way to add spunk to your bookshelves?   I love built-in bookshelves for their great look and incredible storage capacity … but I also loathe when those same bookshelves span a huge expanse of wall and are plunked full of stuff without any rhyme or reason.  Perhaps the only thing those (hypothetical) sorry bookshelves need is a jolt of color!   Using monochromatic books or magazines — here, yellow-spined National Geographic magazines — adds visual consistency and balances otherwise disparate objects.
And gracious, they are even fascinating to flip through!  Perhaps if I would have had a spare National Geographic on hand, I wouldn't have had to send Twin A to preschool with the latest Wine Spectator … out of which he was supposed to cut photos of living and non-living things.  Sigh.  I thought that — under the circumstances — it was a better choice than Elle Decor.  See, this is multi-functional design at its finest:  styled bookshelves and handy for school projects!  After all, a twin mom has to be resourceful.
Anyhoo, today's five minute fix couldn't be simpler:  Add colorful books or magazines to your bookshelves and watch your room take on an entirely different personality!  National Geographic magazines are an easy choice — and readily available in thrift stores or on Craig's List for not much money — but you can choose anything that complements the space.
What's on your bookshelves?
Top photo by moi.