Back in the day, I was totally obsessed with Queer Eye for the Straight Guy.  I think I'm just a sucker for a makeover!  I was always so interested to see how they would take a total schlub and, in a few short days, turn him – and his apartment – into a nice looking, respectable guy with a nice looking, respectable home.  Truth be told, however, the best part of Queer Eye for the Straight Guy was always Thom Filicia.  
It's one thing to give a few etiquette lessons or cut unruly hair.  It's an entirely different ballgame to redo an entire home that usually contained one of two things – either nasty piles of old pizza boxes and dirty clothes or spartan rooms that made Army barracks look luxurious.  But you always knew that Thom – with a resume that includes work at Parish Hadley and for Jeffrey Bilhuber – would work nothing short of a miracle.  It came as no surprise that, when Queer Eye for the Straight Guy ended, Thom would go on to bigger and better things!  For one, he hosts Dress My Nest on the Style Network.  I don't watch too much television, but I happened to catch the makeover he did for Giuliana and Bill Rancic a while ago– and it was absolutely fantastic!!  Most recently, however, Thom has authored a book, Thom Filicia Style, and launched a furniture collection for Vanguard Furniture.  In other words, he's been keeping busy!
Anyway, I was fortunate enough to meet Thom at October's High Point Furniture Market when he debuted the collection.  (Pay no attention to the fact that I look like a linebacker!  I'm blaming that on the sweater I was wearing not fitting too well under my coat.)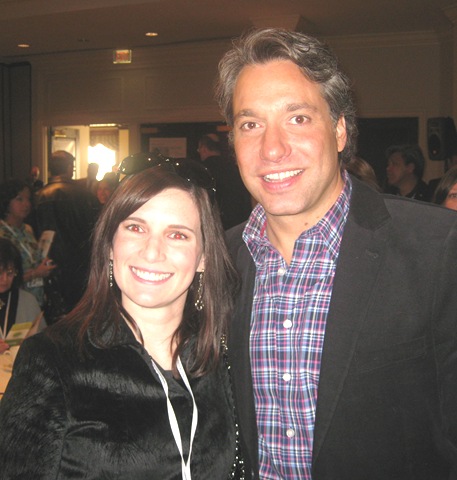 But when Thom did a book signing at nearby Furnitureland South, I leapt at the chance to get a book signed – one to give away to you, my dear readers! – and check out his collection up close.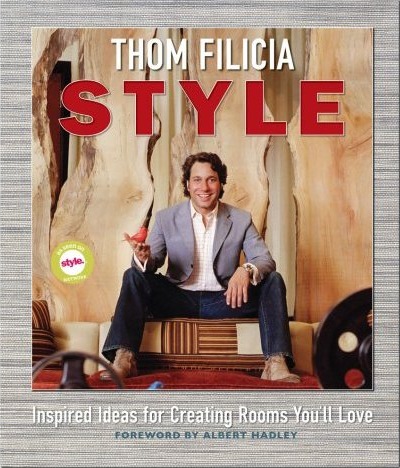 Interestingly, I got to Furnitureland South towards the end of the book signing so the crowd had died down (hallelujah).  Thom was engaging, of course, and asked about my blog – so Thom, if you are reading this, "Big Kiss!!" right back at you!  (That's what he wrote in my book.)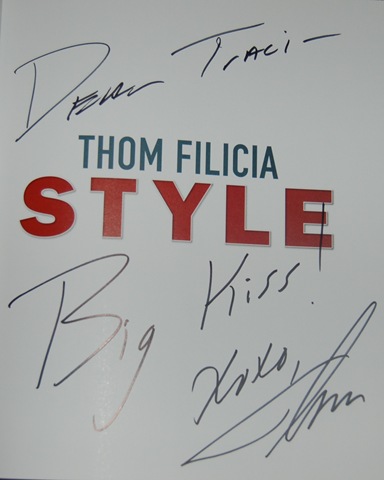 But what I was most impressed by was how hands-on Thom was in the merchandising of his collection.  After Thom signed my books, he continued styling his displays and I began to wander around the showroom.  Approximately an hour later, I ended up back in the Thom Filicia for Vanguard section … and Thom was still styling.  It would be awfully easy for a celebrity name on a furniture collection to be nothing more than the name, but it was evident that this collection is much more than a licensing agreement to Thom!  I really appreciate that Thom is personally involved with his products – and I'm sure other Thom fans do, too.
Oh, and I almost forgot – the furniture looks great!  My favorite piece is the Slocum Hall End Table.  I just think it is so cute and super versatile!  I love the French gray finish.  The table is so classic, yet totally updated at the same time.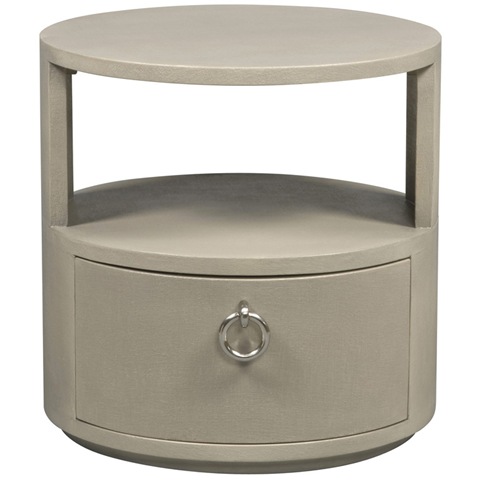 What's your favorite piece from his collection?  I'd love to know!  Are you interested in winning his book?  Here's the deal on the giveaway.  As I've mentioned before, I get way too many spam comments on my blog.  So I'm going to do this three ways.  You can comment on this post and follow my blog with Networked Blogs (which takes care of the weird spammers).  Or you can comment on my Facebook fan page.  Or you can tweet about the contest.  Just make sure to use @tracizeller so I find the tweet.  Easy enough, right?