If Emily Post were reading, I think she might be upset that I have been a touch delinquent with my (virtual) thank-you notes!
First, I owe a big thanks to the adorable Marianne from Style for Living for giving me the Stylish Blogger Award.  I am in very good company, as this award has been making its way through the blogosphere at record pace!  Marianne, thanks so much for the award … and for the record, I think you are an uber-stylish blogger yourself.  I am a touch concerned (flattered) that we may have been separated at birth because we (a) kind of look alike, (b) have similar logos, (c) have similar backgrounds, and (d) own dogs who appear to be identical twins.  I may need to make some further inquiries …  hee, hee, hee.  At least her name isn't also Traci and married to a Mike.  Triple hee hee hee.  Anyway, if you haven't seen Marianne, be sure to click over and check her out!  I know you'll love Style for Living as much as I do.  (Traci, too.)
Second, I also owe a shout-out to all of you, because my blog had over 120,000 unique visitors in January.  Holy moly, that was quite a jump!  I was so excited to see that, and I am so thankful that all of you are reading.  Please, please send me an email or give me a call if there is something in particular you'd like me to write about (or, conversely, something that bores you to tears).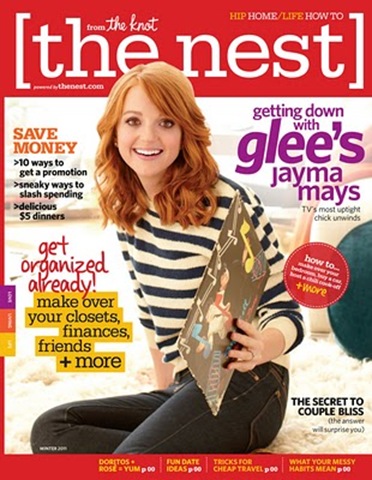 Finally, I was totally thrilled to be included in the latest issue of The Nest magazine.  Thanks to Jade for being the first to clue me in!  I'm #13 in the "Get Organized Already!" article.  Is anyone surprised? There are lots of other great tips (beside mine!) in the article, so be sure to pick up a copy on your local newsstand.  The Nest is available all over, including Border's, Books-a-Million, and Walgreen's.  I spotted it in the Books-a-Million in Cotswold Shopping Center if anyone is looking locally.  It should be available until the end of April.  You can also subscribe here.
What good news have you gotten lately?