I have so many fun things that I want to post about, but I'm feeling as though I should close a few of the topics that I've opened before I go on to something else! I've already told you that we just redid my laundry room.  Hardly the most exciting renovation, I know, but necessary all the same – as you will soon find out.
My twin boys are now toddlers, but it was only a few short years ago that they were eating every three hours around the clock … and Mommy and Daddy were perpetually exhausted!  They were also reflux babies – meaning spit-up everywhere and every time – which meant lots and lots and lots of laundry.  The one-minute-older twin's reflux didn't stop until he was a year old (adjusted age), so I went through cases of Dreft stain spray.  (Works like a charm, by the way!)
Where am I going with this?  Well, one day I needed to let some stained clothes soak.  I turned on the water to fill up the sink and left to do something else (there was always something else to do!) while it filled up.   Figured it out yet?  I forgot that the water was on … and didn't remember until the sink was overflowing, every drawer in the cabinet box was filled with water, and the floor was flooded.  Not. A. Good. Idea.  At that point, I got out the Rainbow vacuum and sucked up as much water as possible.   Unbelievably, the drawers and the cabinet box dried out well … and there was no apparent damage.
Until I did it again.  That's right; I did it again.  My hubby and I like to say that our family motto is "go big or go home."  Well, I went big!   This time I flooded the laundry room with hot water.  I didn't remember that I had left the water running even when my husband asked why all of our windows were steaming up.  Finally, I went into the laundry room and found water everywhere.  Again, the sink was overflowing … only this time, the water had peeled the paint behind the sink.  Again, every drawer of the cabinet box was flooded … only this time, the drawers were swollen and warped.  Again, the floor was flooded … only this time, the quarter round at the base of the cabinet split.  Impressive, huh?
I broke the Rainbow vacuum out again and did what I could.  Weeks later, when the cabinet finally dried out, the drawers were functional again … but the warped drawer fronts didn't magically return to their previous condition and the quarter round stayed split.  Of course, the paint behind the sink was still peeling.  At that point, we knew we'd have to replace the cabinet box, but it didn't seem worth it to turn a claim into our homeowners' insurance.  When we built the house, we used inexpensive materials in the laundry room to save money … and the countertops and faucet always looked out of place.  So we knew that, when we replaced the cabinet box, we would redo the rest of the laundry room … but given that it's just a room for laundry, it was hardly our top priority.
Fast forward to today … I was really tired of my warped drawers (not to mention that laminate countertop I never liked), and I knew that Kara at Navmak could help me renovate my laundry room for a reasonable price.  So here's what it looked like once the cabinet box got ripped out …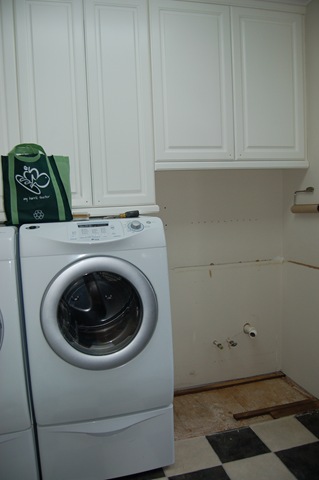 And stay tuned for the after.  Just because it's functional (and not too expensive), doesn't mean it can't be pretty!