Last week I explained the mini-disaster that led to the need to remodel my laundry room.   So let's see where we are now!
Here's a shot of more-than-a-little-halfway through the project.  Thanks to Jeff Detwiler of J. Detwiler Cabinetry, the new lower cabinet – with recessed panel doors – had been installed, and the upper cabinet doors – which were originally raised panel – had been replaced with recessed panel doors.  (I should have gone with these originally, but I'll spare you the long story why I originally chose the raised panel doors.)  I love the soft-close hardware, too, which – unfortunately – was not available when my husband and I originally built our home.  I'm serious when I say that the laundry room cabinets are now the nicest cabinets in my house!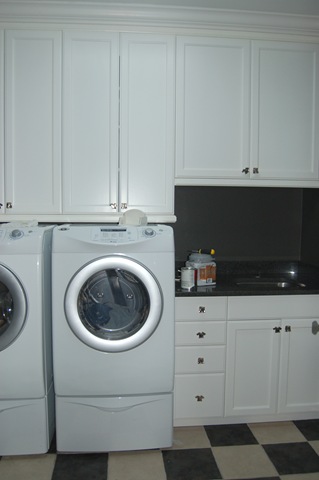 A new granite countertop – Impala Black from Metro Stone & Granite – had also been installed.  Impala Black is one of my favorite granites because it's black – and I love contrast – but still has plenty of flecking to give the granite movement … and detract from any little crumbs or sticky prints on the countertops.  (Wonder how I might get those?)  The color also nicely complimented the existing checkerboard tile floor, which I've always loved.  Oh, and because of the small size of the countertop, I could use a remnant … which made it less expensive than you would expect!   I also have the Impala Black in my kitchen, so it was a natural choice here.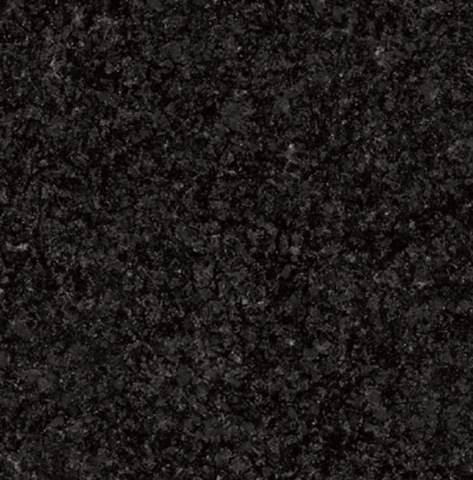 The walls had been newly painted in Sherwin-Williams Urbane Bronze, one of my new favorite colors!  It's a fantastic deep grayish brown that compliments the adjacent mudroom (painted Restoration Hardware Latte) and picks up the brown flecking in the dark part of the checkerboard tile floor as well as the subtle brownish flecking in the granite.

I kept the existing "shirt" and "shorts" knobs (similar ones here and here and also available locally at Bird Decorative Hardware and Blackhawk Hardware).  Their little bit of whimsy makes me smile each time I see them.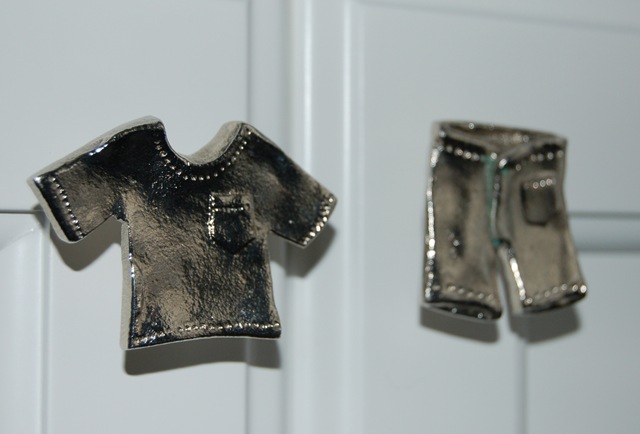 After enough time had elapsed to allow the installation of the Elkay undermount sink (which was way less expensive at the local Home Depot) to cure, the new Delta faucet – in stainless and minus the ugly escutcheon base plate – was installed … and voila!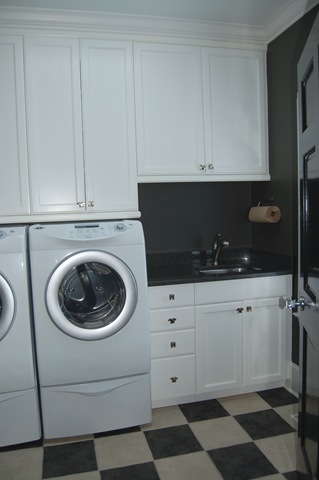 Oh, and because nothing would be complete without a tiny bit of pretty, I added C.O. Bigelow Hand Wash in Lime and Coriander (on clearance at my local Bath & Body Works, plus it smells fantastic!) and these functional and attractive apothecary jars … stocked with laundry detergent, dryer sheets and a scrub brush.  After all, it is still a laundry room!
I have to admit that I also love the brown paper towels.  I use very few paper towels these days, but I keep a roll on hand for those times that a microfiber cloth just won't do … and my Seventh Generation Brown Recycled Paper Towels are environmentally conscious and look oh so nice with my new paint!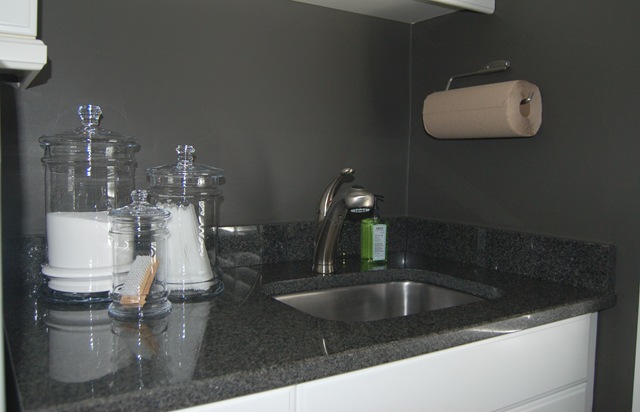 I'd still like to hang some fun artwork behind the sink – you know, something to look at while I'm scrubbing those stains – but I'm waiting to find something that I love … and that is appropriate for the space.
Thanks to Kara at Navmak for making this project easy!  What small remodeling projects would you like to tackle around your house?
Photo from Hickory Granite.