You don't need to spend a lot of money to decorate.  You just need to pick the right things.

— Jeffrey Alan Marks (Episode 7 of the 2nd season of Million Dollar Decorators)
I finally started watching my long-ago-downloaded Season 2 of Million Dollar Decorators — and I'm so glad I waited.  It is extra fun to watch Martin, Mary and Kathryn "stress out" about the Maison de Luxe show house … when I'm knee-deep in to-do lists for the Traditional Home showhouse.  Lisa and I are having a blast, not to mention learning plenty about designing on a deadline!  Did I mention when installation starts?  March 25.  As in less than 20 days from now.  Gulp.
How do you feel about Jeffrey's statement?  Is it especially interesting in comparison to what Martin, Mary and Kathryn reported — or should I say, Bravo reported — spending on their showhouse rooms?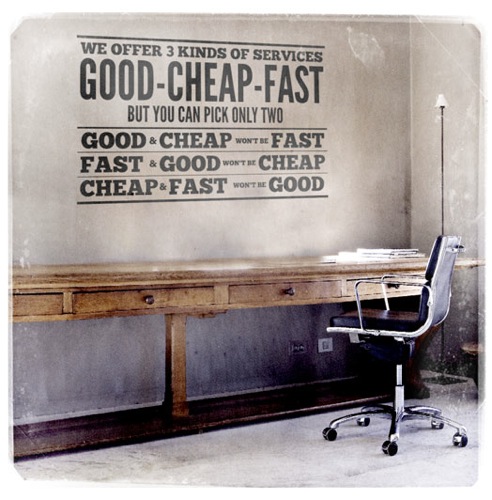 My favorite paint store has a version of this sign hanging on its back wall.  In my book?  This just about sums it up!