I am so excited to introduce my newest blog series, MOM Spotting.  Once a month, I will interview a totally fabulous MOM (short for "mothers of multiples).  Isn't the best advice always from someone who has "been there, done that"?   So let's highlight some of these amazing moms and learn a few stylish secrets!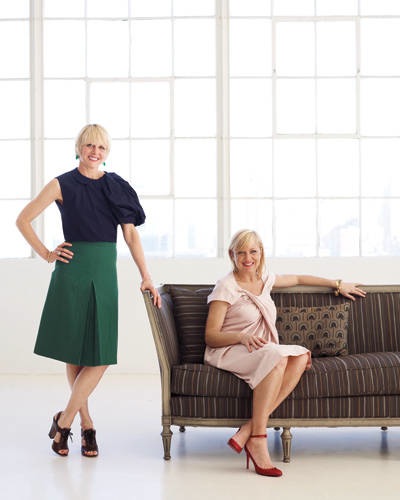 I couldn't be more thrilled to have the super savvy and extremely stylish Kate Hable — half of the dynamic sister team behind Hable Construction — as my first "interviewee."  Talk about starting off with a bang!  Kate (seated on the sofa in the photo above) and her sister Susan founded the NYC-based textile company in 1999 … and Hable Construction has been non-stop ever since.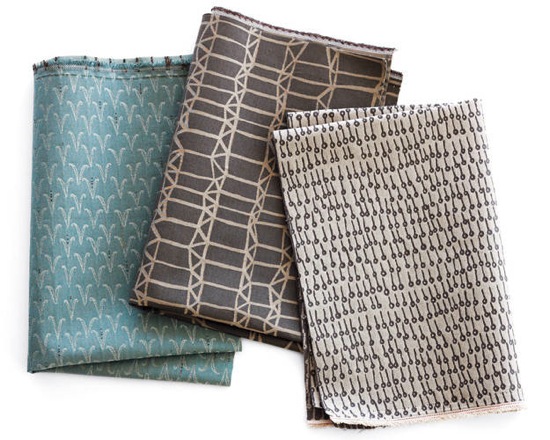 Their fabrics and patterns are, well, everywhere.  Hickory Chair, Garnet Hill, Elson & Company, you name it.  You can't peek around Pinterest for long without running into something Hable Construction that someone (everyone) is coveting.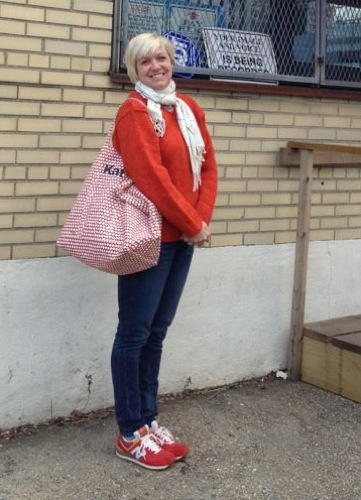 Isn't this how every mom wants to look when running around town?  Comfy, casual, and oh-so-stylish and perfectly put together.  Perhaps the secret is the monogrammed and color-coordinated Hable Construction tote bag!  Yes, I am a tote bag and monogramming addict, but L.O.V.E.  So let's find out more from and about Kate!
What do you enjoy most about having twins?
I always wanted to be a mother and we were blessed to get pregnant very quickly and with 2!  I had no idea twins ran in the family and was a little overwhelmed at the beginning but felt so lucky!  My girls are now fifteen, and I think the best thing about having twins is seeing the amazing differences between two who are so close yet so different.  I love having two very strong, independant thinkers who also ultimately have each other in their sights in every way.  They can fuss as sisters but when push comes to shove, I have never seen such devotion and protectiveness in any two little people.
How have your twins inspired you in your creativity?
I think having twins has made me not only want our company to make beautiful things but actually make practical things that are long-lasting and useful.  Our first products were fragile and precious.  We quickly evolved into utilitarian constructions and things that could stand the test of time with kids.
What one piece of advice or encouragement would you like to offer parents of twins?
Take each day as it comes.  Find the differences in your twins and allow them to flourish.  Take time one on one with them.  When my girls were little, it was more like both of them climbing in bed and reading books with me.  Now that they are teens, I constantly ask them to do things just to have that time.  I am sure that I am annoying but it's my job!  And those little dates, whether it's getting a manicure or just taking a walk around the neighborhood, are the most precious time.
How did the interior design of your home/your personal style change once you had twins?
I simplified.  I basically made everything washable and wipeable.  I had white slipcovers made for all my furniture.  I took the covers off once a month (or as needed) and soaked them in Biz … and they would be sparkly and crisp and new. I never wanted my home to have areas that were fancy or off-limits and I also never wanted to scold a child for a spill or an accident.  Nothing is worse than making yourself crazy trying to keep sticky fingers off of everything.  I bought a Kartell table and some awesome modern chairs from Moss, and they still look good after years of Kool-Aid and dyeing Easter eggs.  My fantasy of a gorgeous velvet sofa is still far in the future … and I am ok with that.
In a word, how would you describe your interior design/personal style?
Personal style = classic.  Interior design style = tricky!
What is the biggest mistake moms of twins tend to make in their own interior design or with their personal style?
Your house can still be chic even with kids.  In NYC, not everyone has the luxury of a huge kids' playroom, so having good storage in the living room makes for easy pick-up in case of an unexpected guest.  I don't like a lot of clutter so when a toy was not at its best, or had gone the way of the wind, it was recycled at the neighborhood playspace.  Books past the age range were given back to the school or donated to the public library.  As for personal style, I always say to play up your best assets.  No sleep can wipe a mom out at any age!  A great color of lipstick does wonders for a tired mom and a great tailored jacket can perk up even a going-to-the-park outfit.  In any case, cutting yourself a little slack in all areas can lessen your overall stress!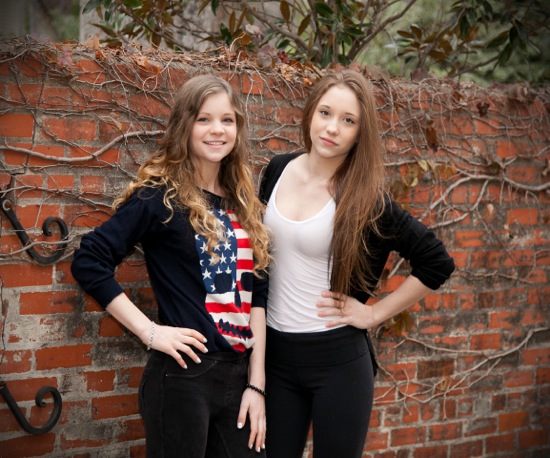 Isn't Kate awesome?  Haven't I told you that white is practical for moms??   I think I need a fabulous new lipstick shade.  And just look at her gorgeous girls, Dylan (in the sweater) and Mimi (in the white top).  How do they grow up so fast???
Kate, thank you so much for your wise and wonderful advice!
P.S.  Know a MOM that I should profile?  Please introduce me!  Have a burning question that I should have asked?  Please let me know!
Top two photos by Joshua Mchugh for Elle Decor.  Bottom two photos courtesy of Kate Hable.