No room is complete without art; it's like jewelry for a little black dress.

— Beth Webb (Atlanta Homes & Lifestyles, February 2013)
I love Beth Webb's work … and I love art!  Art is one of the best ways to add sophistication to a home with small children.  Paintings are often out of reach and protected behind glass, which means you don't have to worry about them being broken or damaged.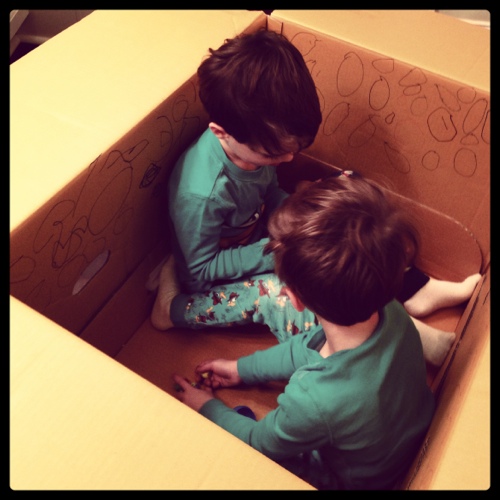 I also find artwork to be a fantastic way to commemorate an occasion or remember a trip.  Perhaps as a result of this theory, I'm starting to run out of "prime" wall space in my own home.  At some point, I'll start rotating my art or begin collecting non-glass sculpture.   My twin boys may be "old enough to know better," but a Chihuly is still not a good idea!  Oh, and I'd have to spend their college fund.  Technicalities, really.  Note the art they've created on the inside of their laser printer box clubhouse.
Do you have a favorite piece of art?
Interior design by Beth Webb Interiors; photo via Beth's website.