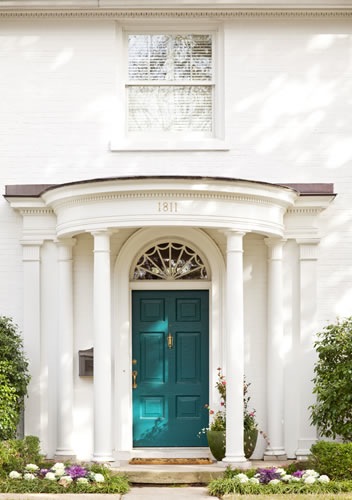 Doors are an announcement.  Why squander the opportunity?

— Alex Hitz (House Beautiful, November 2012)
Have you signed up for Maria Killam's "Choose a Color for Your Front Door" webinar?  It's bound to be fabulous … and it's free. Cha-ching!  Andrea Brooks' front door is one of my favorites.   How can you not love a crisp traditional house with a fresh and vibrant turquoise door??  My front door is getting painted in the next few weeks — hallelujah — and I cannot wait.
Do you want to know why?  Because my adorable but more than slightly obnoxious little Maltese looooooooves to jump up on the door as she barks at the mailman … UPS truck … lawn mower … pretty much anyone who dares walk past the front of our house.   Teeny (dirty) paws + white door = an oft-used (or not-oft-enough-used) Magic Eraser.  Read about my other "quick clean" faves here.  Will I still need to wipe down the door?  Absolutely.   Will the paw prints be as obvious when my door isn't white?  Not a chance.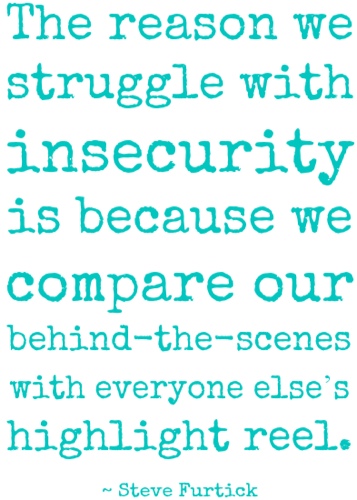 After all, there just might be more pressing priorities … perhaps like a stomach bug making its way through my twins and an exploded washing machine.  Not a good combo, in case you were wondering.  Today's behind-the-scenes?  Definitively not glamorous.  Do you want to read about that?  I didn't think so.  That's why people post their highlight reels!   
Remember "you know mommy's a designer when …?"   Well, here's another one.  There was a period of time where it seemed like our next-door neighbors — who are great friends — were painting their front door every other minute.   It was red, then blue-ish green, then gray.  When the door was painted the final time, my sweet hubby snapped a photo to share.   Twin B asked, "Daddy, why are you taking a picture?"   Twin A indignantly replied, "Because the door isn't green any more, you blue-eyed poopy doop!"   That's brotherly love for you right there, peeps.
Design by Andrea Brooks Interiors.  Graphic via All Our Days.