Do you remember how Alice in Wonderland grew and shrank after she fell down the rabbit hole?  Well, just call me Alice.
The Cordell Chair from C.R. Laine looks perfectly traditional …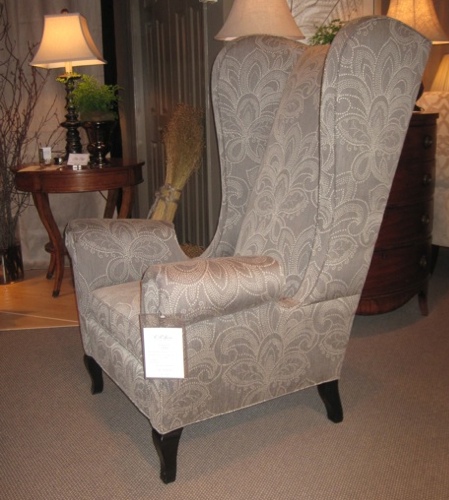 … until you realize how large it really is in comparison to the sofa!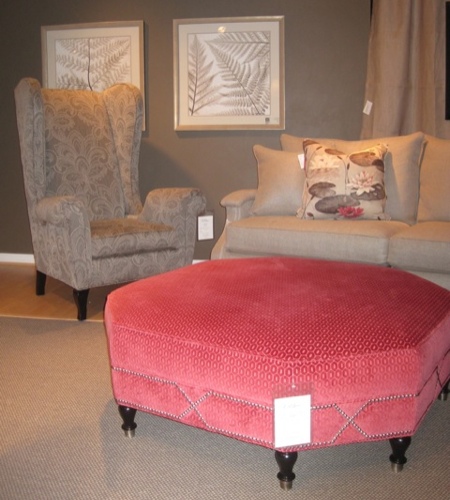 Conversely, these Ansley Chairs at Hickory Chair are rather petite – just look at the teensy back legs – compared to the nearby desk and ottoman.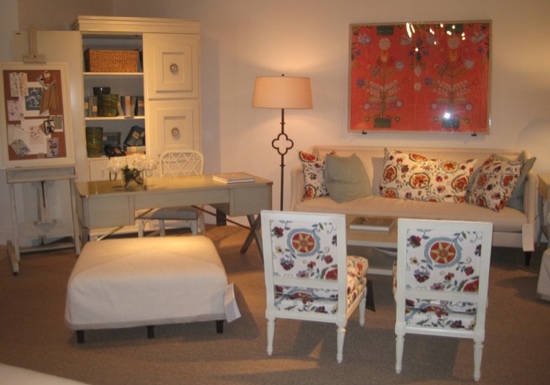 Or how about this combo?  Mr. Brown paired a breakfast-sized table with a single chair (look for the pillow peeking above the table on the left) and a high-backed settee.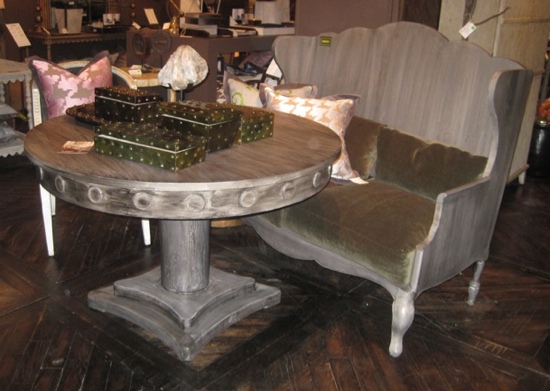 To sum it up, at High Point Market, there was a lot of playing with proportion!  Never fear, though – these experiments in scale aren't just a flight of fancy.  If you step back and think, you realize that the somewhat unusual proportions are actually very functional.
Take the Cordell Chair, for instance.  Can't you imagine curling up in that chair with a book … and perhaps a toddler? Although the Ansley Chairs may be petite, they are scaled for comfort and low enough that they don't interfere with the view into the room.  Or how about putting your children – and their friends – on that Mr. Brown settee for supper?  With some child-friendly upholstery, I think it would nicely confine my twins and their mess!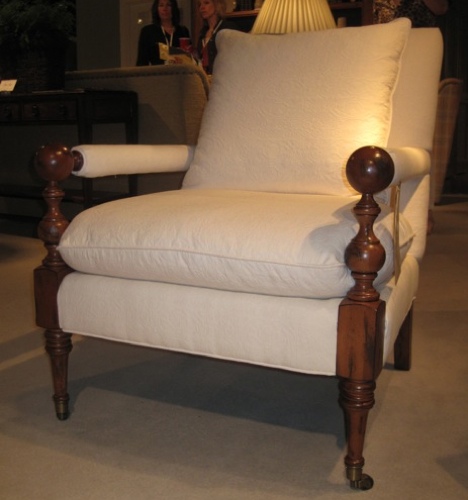 I also enjoyed seeing designers experiment with proportion within the confines of a traditionally scaled piece.  A perfect example is the Bradstreet Chair – in most respects, a classic spool chair but with enlarged detailing on the arms.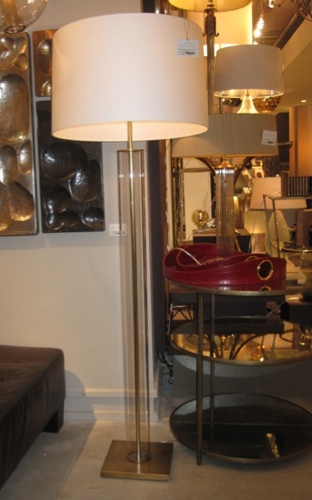 Even accessories got the oversized treatment.  The size of the shade on this floor lamp from Arteriors Home makes it a showstopper!
Oh, and don't forget patterns.  I've already shown you plaids, botanicals and birds that were super-sized.
So what's the key to making this trend work?  Like so many things in design – it's all in the mix.  If everything in your home is big, bigger, and biggest … a visitor might just wonder where you are hiding the NBA player who really lives there.  (For the record, I am no relation to Tyler Zeller.  He's 7'0″ and I'm 5'3″ – you do the math.)  But if everything is super teensy tiny … well, would you be comfy in a child's playhouse?  (I do fondly remember Barbie's Dream Cottage circa 1983 … although I changed out the furniture.)  A variety of sizes (within reason, of course!) – in furniture, accessories and patterns – is what makes a home beautiful and practical.
Do you have any over- or under-sized pieces in your home?