Details, details, details!  It's all in the details, isn't it?  (Including God or the devil … depending on which version you'd like to use!)  Well, this spring at High Point Market, the details were more important than ever.
Nailhead is still big (no surprise there), but now you are seeing it just as much in a pattern as you are in a straight line. Check out this Gaston Octagonal Ottoman from C.R. Laine.  The shape of the ottoman makes it special already, but the decorative nailhead really makes the ottoman.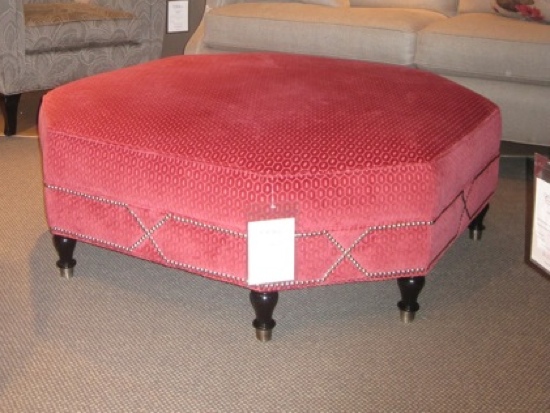 Other dressmaker details continue to evolve.  My favorite is the "mini" flange … otherwise known as a flat welt.  I love the clean, sophisticated yet casual look of this Juno Sofa (also from C.R. Laine) …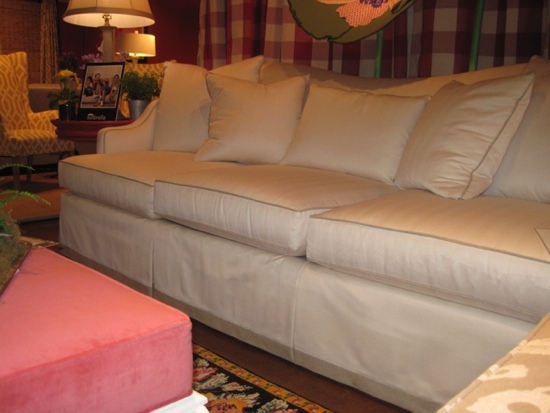 … but I love it even more because of the mini flange on each of the pillows and seat cushions.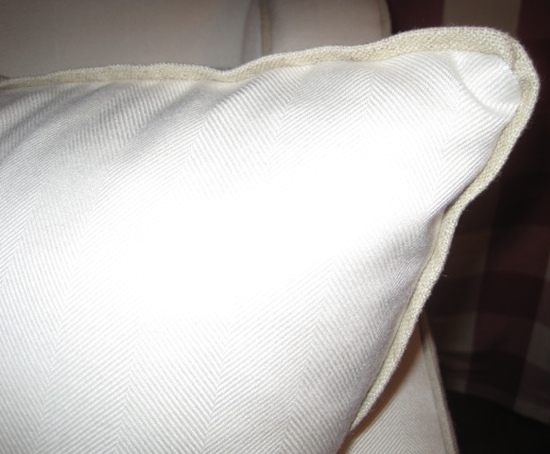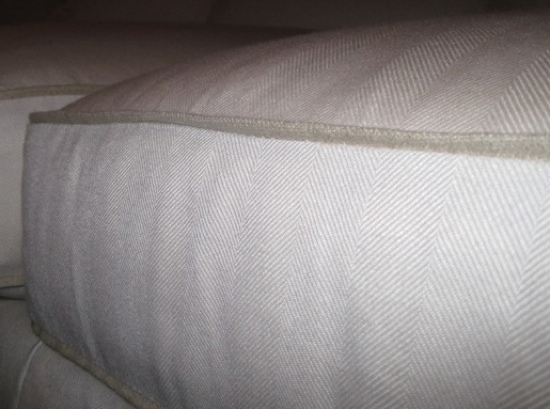 Despite the pale upholstery, this sofa is also ultra-practical … because the fabric is Sunbrella.  Love!  Stylish Sunbrella (and companies that offer it) = happy Traci.  Of course, those loose pillows do give me pause (personally) … remember this tip?
The often-overlooked "rear view" is also getting some attention this market.  The Mary Elizabeth Chair from Aidan Gray is beautiful from the front …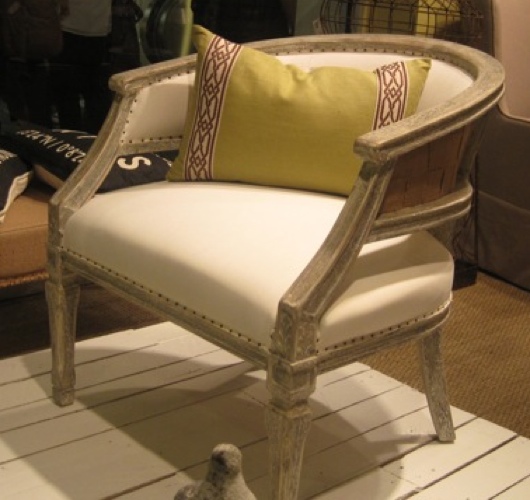 … but check out the woven fabric on the back!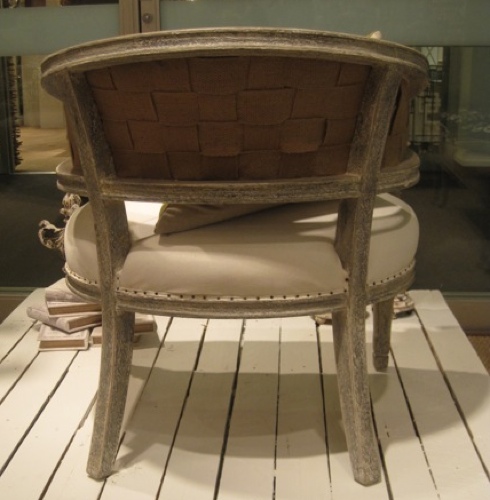 Global Views used a similar woven detail (this time, in wood) and continued it on the sides.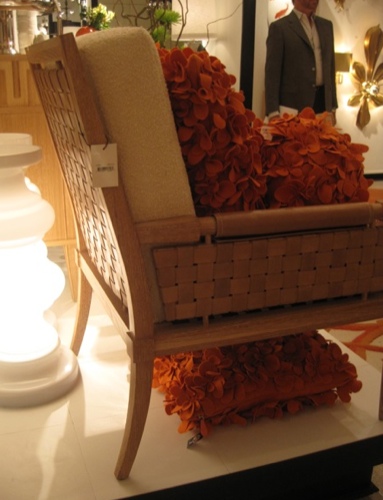 Lest you think upholstery got all the love, let's look at what happened with case goods (wood furniture)!  Although the gray / limed finish is still popular, I dare say that we've moved a teensy bit past "plain" gray … and on to heavily textured finishes in all shades.  In my book, a variety of finishes is how manufacturers truly set themselves apart from the pack.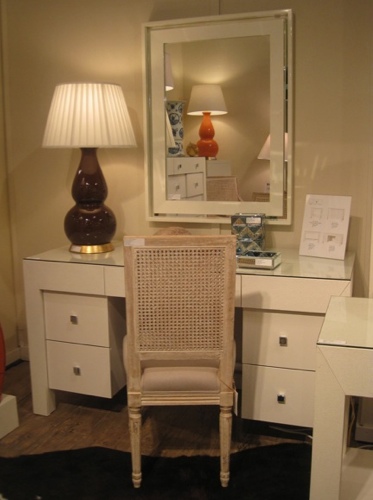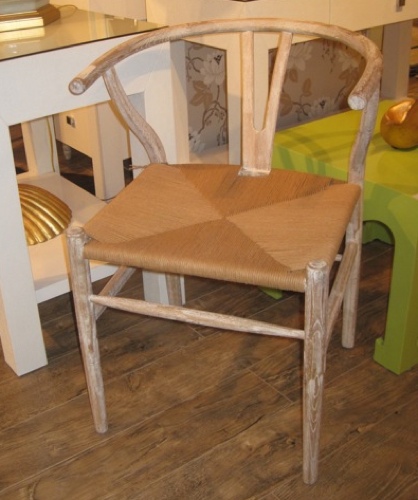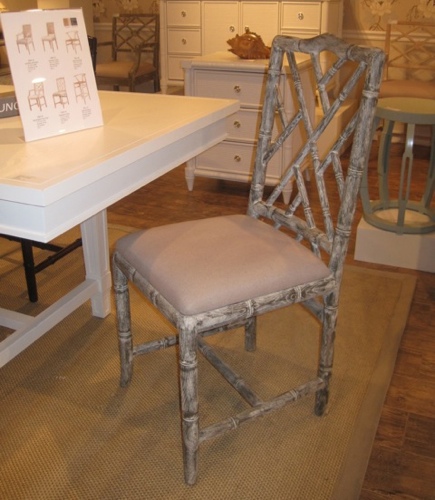 Bungalow 5 took three different chair styles – Louis, Wegner, and Chinese Chippendale – and, in a departure from Bungalow 5's usual lacquer, gave the chairs distressed finishes on the cream / brown / gray spectrum.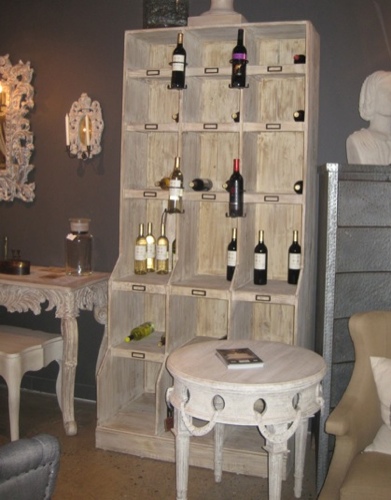 I loved the weathered finish on this wine storage piece from Noir Furniture … and I'm hoping to use it in a project for a new client.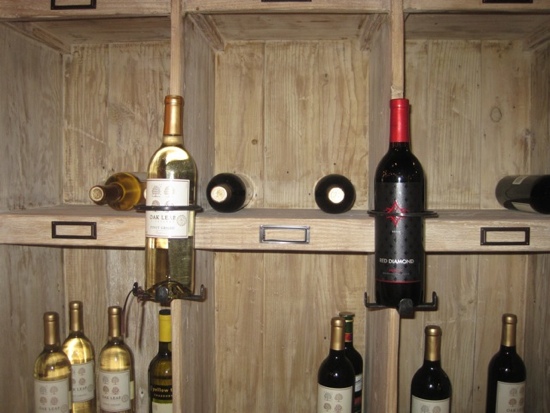 It really reminds me of a wine barrel … which is exactly the authentic look you want.
Mr. Brown updated these traditional chairs with an aged brown finish.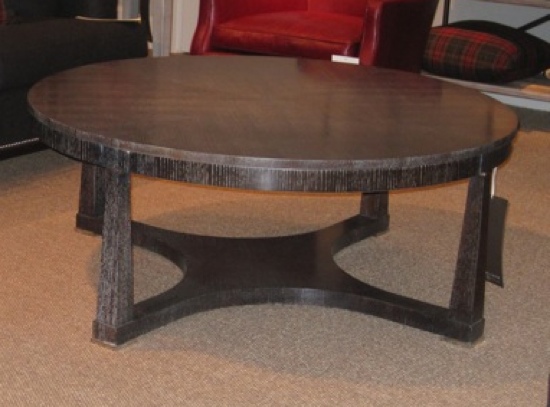 Of course, Hickory Chair is known for their amazing finishes (love, love, love!) … as you can see on the Bowman Cocktail Table.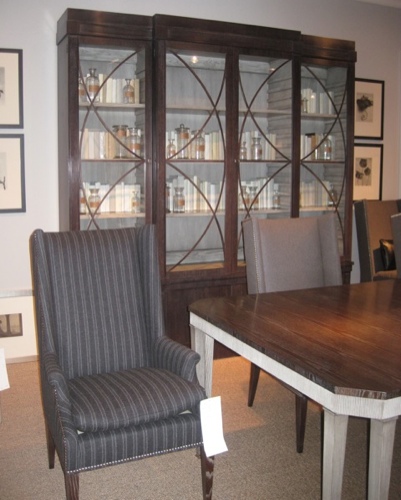 And isn't the Artisan Chamfered Corner Dining Table stunning?  The gorgeous two-toned finish on the ash wood really draws attention to the table legs … which are spectacular.  And I'm also coveting the Artisan 4-Door Ash Grand Cabinet in the background.  All of these pieces are part of Hickory Chair's 1911 Collection in celebration of the company's 100 year anniversary.
Whew.  After writing this long post, I think I'm convinced that it is the devil in the details!
What detail is your favorite?