With March in full swing, my roving fashion eyes have their sights solely focused on spring. Everywhere I look, prism prints are thawing out my cozy sweater-wearing fashion heart. Mara Hoffman has the look covered in swimwear and prêt-á-porter. And I am loving Hermès Perspective Cavaliére collection. The enamel bracelet is the perfect neutral to go with just about everything I am coveting this spring.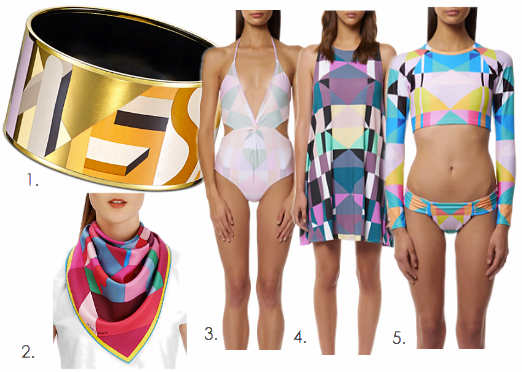 In the décor sector, prism prints are prevailing across fabrics, wallpaper, art, accessories and even rugs. Miles Redd for Schumacher "Cubist" panels are to die for. Although this is not a look just any home can pull off, bright colors bring warmth to the grey shades that are so prevalent now. Plus, these prints pair perfectly with mid-century lighting and furnishings.
1. // 2. // 3. // 4. // 5. // 6.
I'm personally drawn to the softer, more subtle prism prints, which can add a graphic, modern element to a more traditional space. Not to mention that Hermès cuff would fit beautifully into my well-edited jewelry wardrobe!