I look like a one-eyed monster now, y'all.  I had eye surgery last week, and — let me just tell you — there's a reason that this surgery is usually done when children are young.  As the pediatric (!!) ophthalmologist reminded me, after 30+ years of blah-blah-blah, it's no surprise that my eye is red and quite irritated.  Anyhoo, I'm taking this as an even-better excuse to further my inappropriate use of sunglasses indoors.  I'm also trying to stay off the computer and phone — waaaayyyyy easier said than done — so I hope you'll forgive my sparse posting.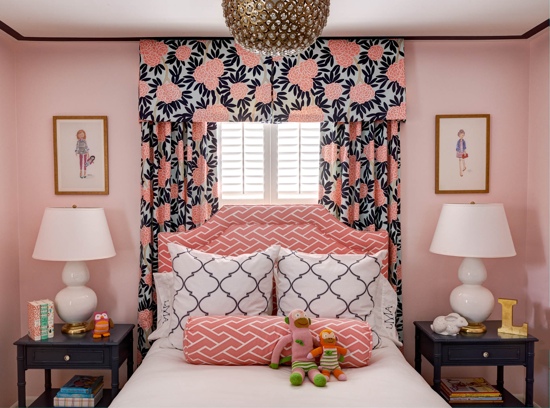 And that's also why I'm going to leave you with this darling bedroom that I completed last year (through my innovative Double Day Design service) for an extraordinarily precious toddler girl.  She got promoted to a "big girl" room … with "big girl" design to boot.  She's the only girl — with three brothers! — so we embraced the pink.  And the gorgeous navy keeps everything from being saccharine sweet.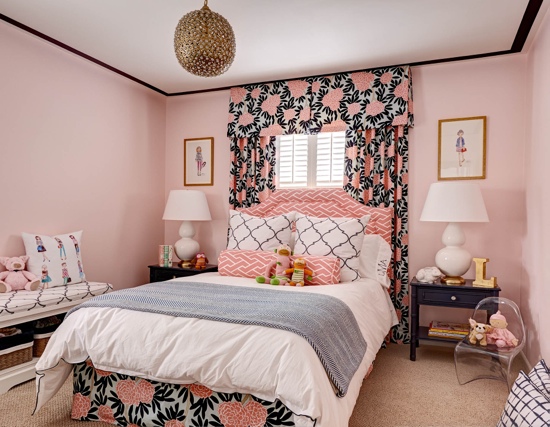 You'll have to use your imagination for the "before," because — in a major designer fail — I neglected to take any photos.  Just imagine a "very-cute-but-nothing-like-this" nursery.  I'm thrilled with how this room turned out … and especially how this room will grow with that adorable girl for many years to come!  
Interior design by Traci Zeller.  Photos by Dustin Peck Photography.