Last week, I had the huge privilege of attending Hickory Chair University – an event held by Hickory Chair Co. to educate designers and retailers about its furniture.  It was a truly amazing experience, and I am so grateful to have been included!  Heather Clawson over at Habitually Chic participated last year, and she did a great job of giving you a blow-by-blow summary in her posts (here, here, and here).
So instead of trying to capture everything, I am going to show you the highlights from my point of view – mainly the things that make Hickory Chair Co. and its furniture extra-special.  Hickory Chair would tell you that its "EDGE" program – Employees Dedicated to Growth and Excellence – is what sets the company apart.  To me, EDGE boils down to this – an extraordinary attention to detail, incredible emphasis on quality and customization, and true respect for all employees and the customer.
In an effort to share as much as possible with you, today I'm going to cover the casegoods (meaning, wood products) workroom; Thursday, I'll fill you in on the upholstery workroom; and next week, I'll wrap it all up!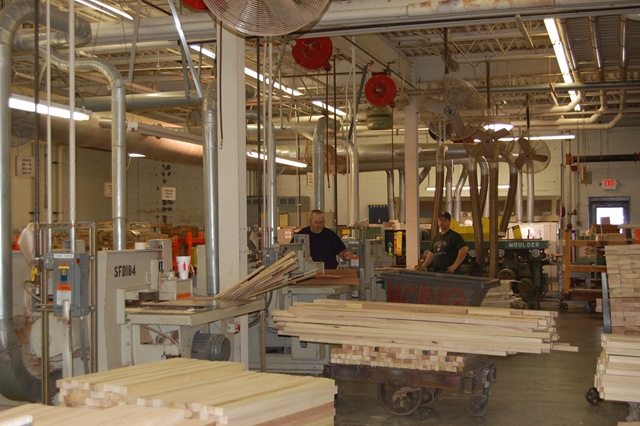 When I first walked into the workroom, I was immediately struck by how very clean and organized it was!  The floor was spotless, there was no noticeable dust anywhere – even in the air – and everything was neat and in the appropriate place.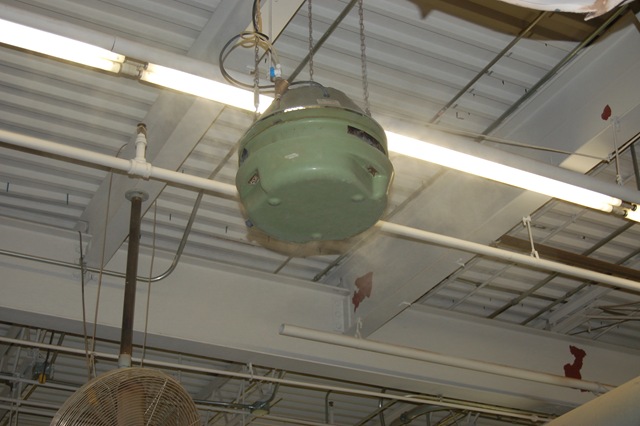 Because the winter air in Hickory, North Carolina can be dry, special machines put moisture in the air so that the kiln-dried lumber maintains the optimal moisture content (from 6-8%).  That ensures the wood remains stable … and you never have to worry about sticky drawers or warped doors or rails in your Hickory Chair piece!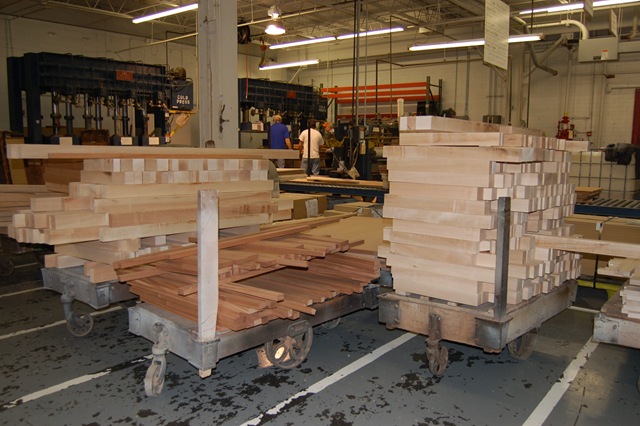 I couldn't resist including this picture.  For those of you who don't live in furniture country, the pricey vintage factory carts you can buy from Restoration Hardware are really utilitarian tools in a working furniture factory!  Because Hickory Chair has done such an excellent job of managing costs and maintaining quality, it has been able to keep – and increase – its production in the United States.  Today, approximately 87% of products sold by Hickory Chair are made in Hickory, North Carolina.  So these particular factory carts will be in use for years to come … and not available for refurbishing by Restoration Hardware!  Unless, of course, with the EDGE program, a Hickory Chair employee comes up with a better way to transport!  Anyway, I love knowing that Hickory Chair's products support American workers – and, from a transport perspective at the very least, it is eco-friendly to buy locally.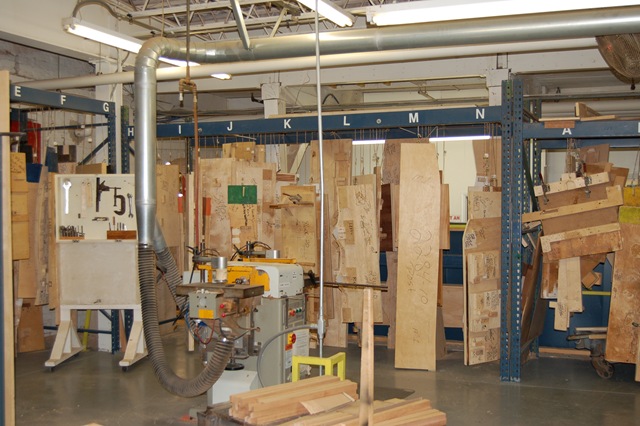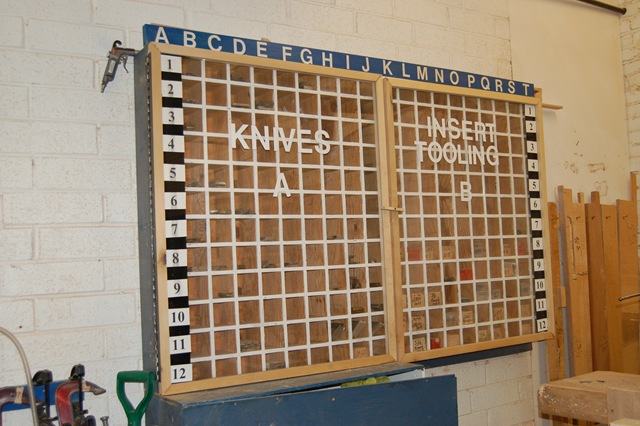 Hickory Chair's workroom epitomizes the saying "a place for everything, and everything in its place." Do you think my hubby's organization would improve if I sent him to work for Hickory Chair?  It's just a thought; I'd be willing to give it a try … especially if he comes home with a few Hickory Chair pieces!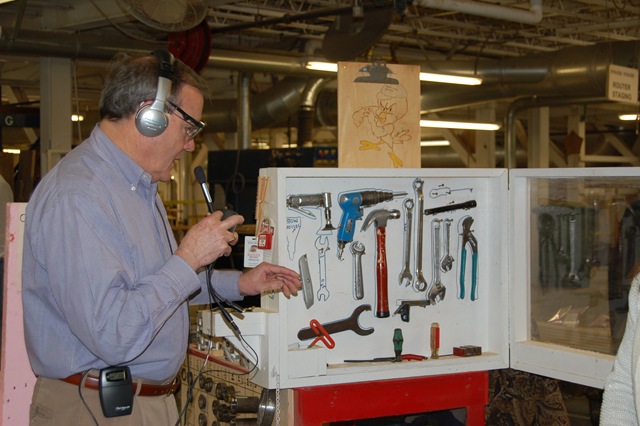 In the photo above, Jay Reardon, president of Hickory Chair – shows us how an employee decided to create an outline for each tool in this shadowbox, so everyone knows at a glance what tool goes where.  Keeping everything organized enables the employees – who are really artisans – to work efficiently, safely and without frustration.  Hickory Chair broke the American record for safety for going over 6 million hours worked without a lost time injury!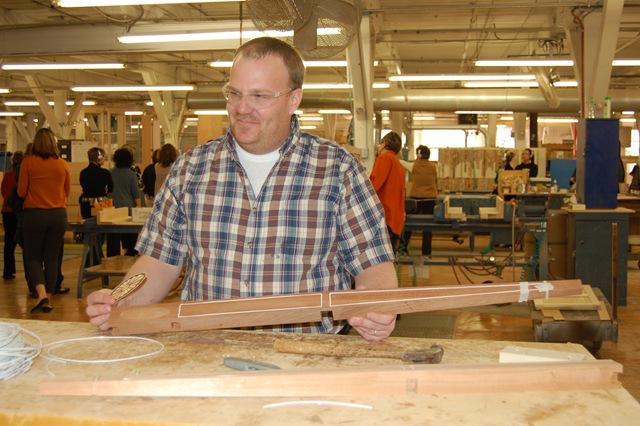 In this photo, one of the Hickory Chair artisans hand-applies the detail to this table leg.  By the way, Jay knows the name of every employee in the workroom.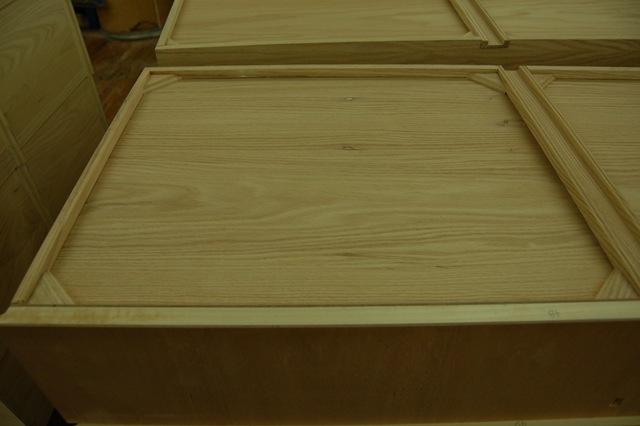 Another artisan – on her own initiative – brought in a toothbrush to remove any excess glue from the bottom of drawers.   Seriously, any company that pays attention to that kind of detail – the kind of detail that goes unseen in 99.9% of instances – is a company after my own perfectionist heart!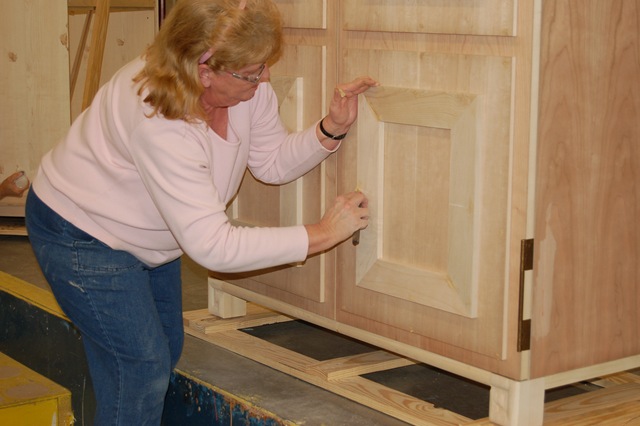 Here, an artisan inspects a Tuxedo Cabinet to make sure its surface is completely smooth.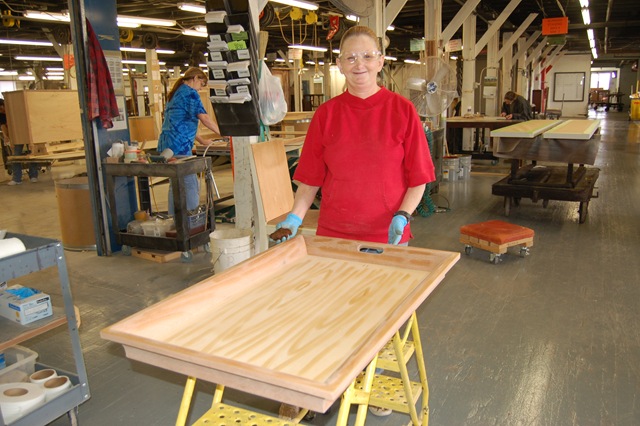 Now we start the finishing process!  Bessie – I hope I'm remembering her name correctly; I had left my notebook back in the conference room – is a long time artisan for Hickory Chair.  She first determines the finish that the customer has chosen for the finished product and carefully reviews the grain of the wood in the particular piece.   She then applies – by hand – subtle burnishing and highlighting to bring out the character of the wood.  Bessie said that a part of her leaves with each finished piece.  I am so impressed with the pride she takes in her work – and the artistry with which she performs it!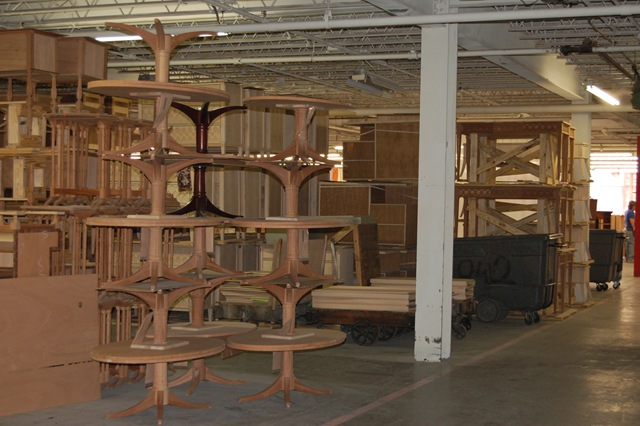 Hickory Chair closely monitors its orders and keeps enough inventory of unfinished goods – waiting for the customer's chosen finish – to be able to ship its wood products in approximately two to four weeks.  Considering that I waited months – and I mean, oh, like nine months – for dining room chairs from an unnamed competitor, I think that is admirable and impressive!!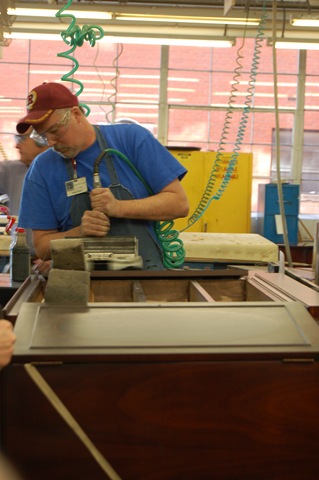 Hickory Chair machine-rubs all surfaces of its wood products – unlike many manufacturers who machine-rub the tops but only hand-rub the sides.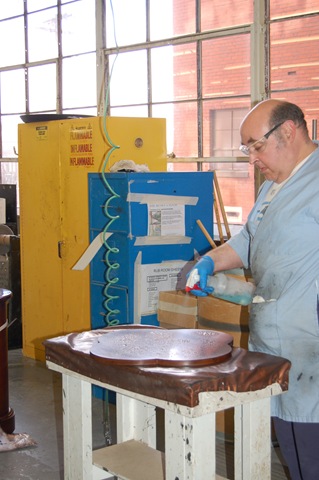 Finally, this table has made it to the last few steps of polishing …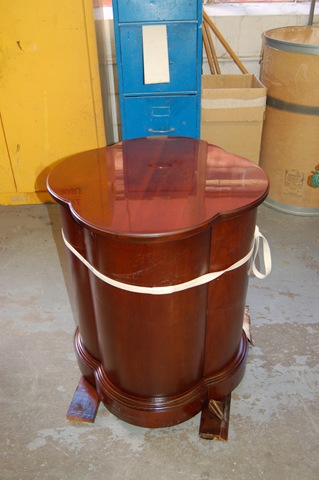 … and voilà, the finished product – here, a gorgeous quatrefoil book table.
Aren't you impressed?  I am!  Knowing the love and care that goes into the making of each piece and having the ability to customize just about everything … well, I think I spent half the tour daydreaming about what pieces I could incorporate into my own home!