I've talked about the Hickory Furniture Mart before, but now it's time for the full lowdown.  I was lucky enough to be invited to a VIP Designer Event that the Mart held so that we designers could learn more about the resources that the Mart offers – and now I'm going to pass that scoop on to you … just in time for the Furniture Festival and Clearance Sale, which is right around the corner.
But first things first … Especially for those of you who don't live in North Carolina, I think there is a lot of confusion about the difference between the High Point Furniture Market and the Hickory Furniture Mart.  The High Point Furniture Market is the trade-only event held twice per year in High Point, North Carolina.  Hundreds of manufacturers – of furniture, fabrics, and accessories – converge on High Point in April and October to show retailers, designers and members of the media their latest product introductions.  Although some manufacturers maintain their showrooms during the year, most of the manufacturers are only in High Point during market weeks.  Members of the public are not able to attend.
The Hickory Furniture Mart is a four-story furniture mall – with nearly a hundred shops, outlets (yes, I said outlets) and galleries – open to the public in Hickory, North Carolina.  It is open year-round, Monday through Saturday (and Sundays for certain special events).  With over a million square feet of space, and approximately 1,000 manufacturers represented in the Mart's stores, the Mart is a "one-stop shop" for furniture buyers and bargain hunters.  The Mart's website has loads of information for visitors –including a buying guide, directions, and a list of manufacturers represented at the Mart – so I won't repeat all of that here.
Instead, I'll highlight a few of my favorite stores … to whet your appetite until you visit the Mart yourself.  I put them in alphabetical order, so that no one store would feel loved any less!
Amish Oak and Cherry – ok, ok, I know what you are thinking.  Amish furniture?  Not. Your. Thing.  Well, think again.  Amish Oak and Cherry has some gorgeous pieces that are far from what you think of when you hear the word "Amish."  I particularly liked this beautiful table.
It was so much more striking in person when you could really appreciate the beauty of the wood.  Of course, if you like traditional Amish furniture, they have that, too.
Century Fabric Outlet – can you say Oscar de la Renta?   The Century Fabric Outlet sees some unbelievable Oscar fabrics, used on the line he designs for Century furniture, pass through its doors … at equally unbelievable prices.  Yum.  The Century Fabric Outlet, under the name Boulevard Upholstery Services, is also able to handle your upholstery projects at quite reasonable prices.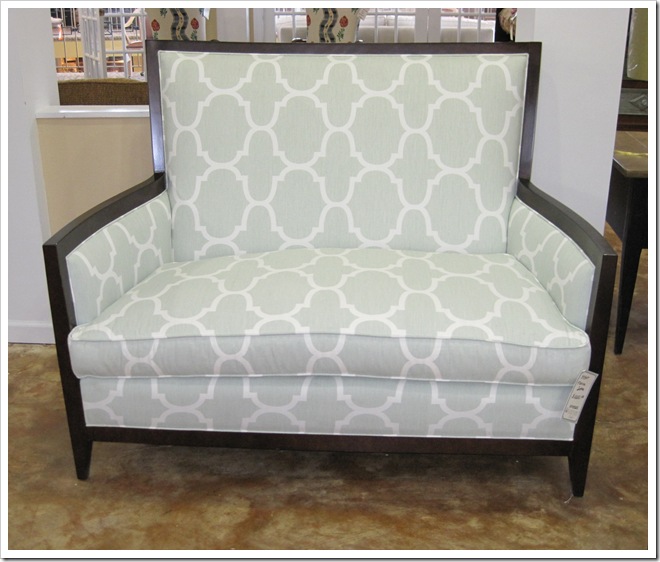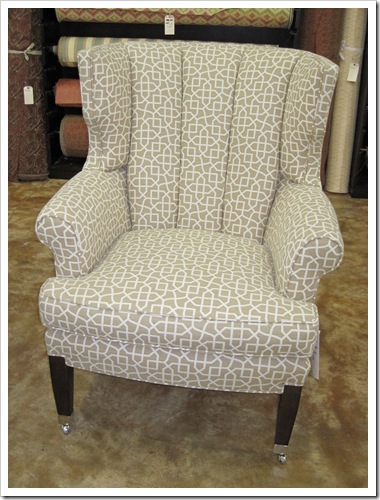 These fabulous pieces were for sale off the floor.  I'll take both (in my dreams)!
P.S. – Manager Scott, if any of those Lee Jofa fabrics end up at the outlet, C-A-L-L-M-E.  Pretty please?
Drexel Heritage Factory Outlet –  I don't have a photo to share here, but let's just say that I haven't forgotten the fabulous oversized round ottoman upholstered in red mock crocodile.  I saw it probably two or three visits ago, and I'm still drooling.
Henredon Factory Outlet – Oh, how I love thee!  My two leopard Ralph Lauren by Henredon ottomans (acquired quite some time ago) are more than evidence of that.  Now that Henredon no longer manufactures the Ralph Lauren furniture, but does make Barbara Barry Realized by Henredon, you can imagine what I'm in search of every time I wander in.
Hickory Outlet Center – This store has some really great upholstered pieces …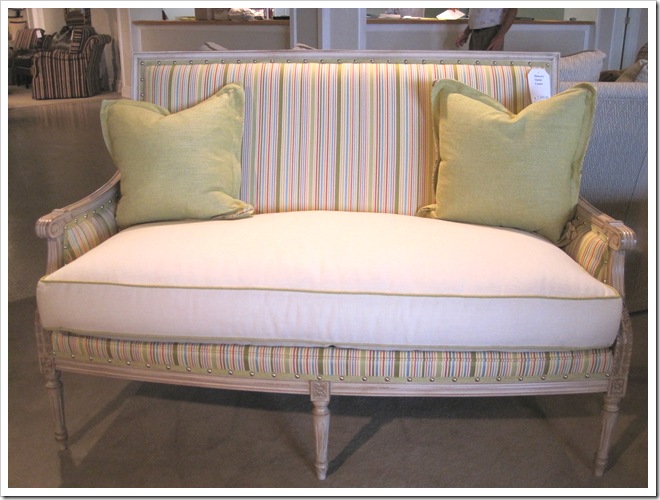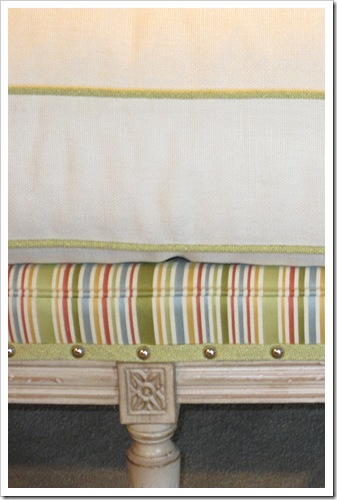 This kind of detail gets me every time!
… but what I came home with was a fantastic pharmacy lamp by Robert Abbey.  Robert Abbey makes some amazing light fixtures, including quite a few (all?) sold by Restoration Hardware.
Mitchell Gold + Bob Williams Factory Outlet –  I've told you all about the Mitchell Gold + Bob Williams company before so I won't bore you with that again – but just think about how even more tempting their furniture is at outlet prices … especially when they are running one of their additional percentage off already-marked-down items sales.
Don't think for a minute, however, that those are the only stores worth visiting; it's just impossible to recap everything!  This tailored sectional caught my eye in Southern Style Fine Furniture.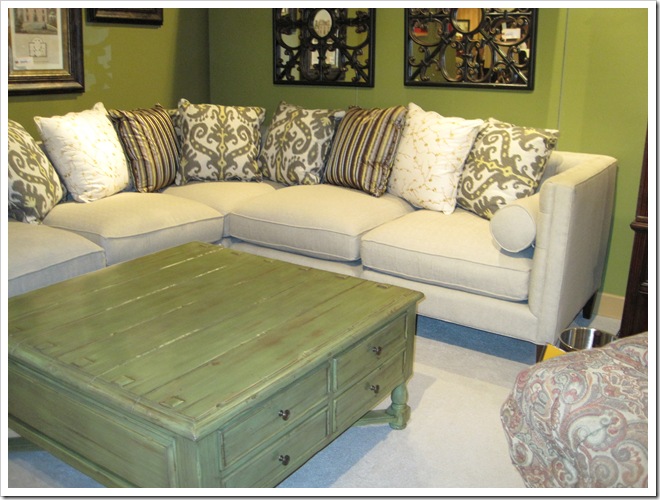 P.S.  If you like the gray and yellow ikat, I just saw the same fabric at Mary Jo's Cloth Store.
Hickory Park Furniture Galleries carries lots of great brands, including C.R. Laine, Bassett and South Cone.  But what really had me entranced – for their fun and unusual factor – were these two chairs.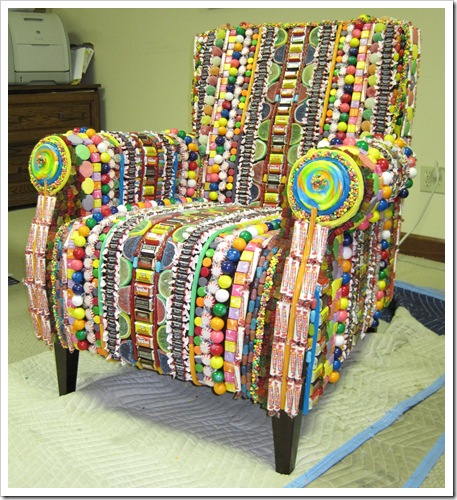 Can you tell that this chair is covered in candy?  Take a closer look.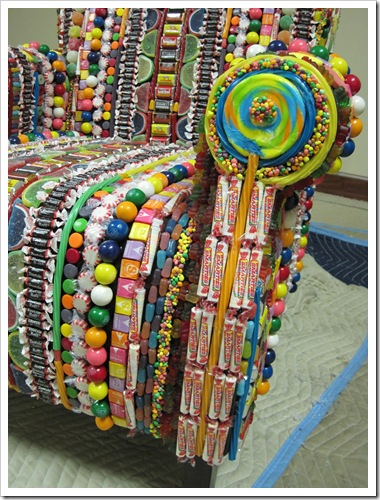 Obviously enough, the candy chair wasn't designed to use in your living room but instead as an eye-catching display.  I'd say it succeeded!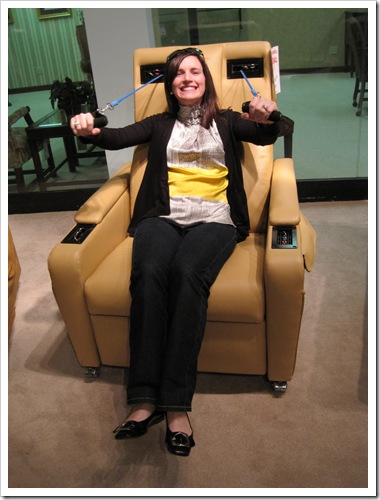 And how about this crazy chair?  Designed for the home health care market, the chair has built-in resistance bands underneath the arm rests and behind the semi-attached pillow-style back.  I'm not rushing to put one in my house, but I think it's a great idea for rehabilitation and assisted living facilities.  Hmmmm …. do you think I might actually exercise if I had one of these chairs in front of the flat screen?  Nah.
Of course, I can't forget Boyles Distinctive Furniture, a family-owned and operated company with locations at the Mart, in Charlotte and in Jamestown, North Carolina.  Boyles carries an amazing range of brands, including my true loves, Hickory Chair and Baker Furniture.  I don't think about Boyles as much when I think about the Mart – I'm sure it's only because I have the luxury of shopping at Boyles here in Charlotte – but the Boyles store at the Mart is a fantastic resource.
Are you thinking about a trip to the Mart?  Stay tuned tomorrow and I'll give you the skinny on the Furniture Festival and Clearance Sale!
All photos by moi.  Just to be clear, I did not get paid to write this.  I genuinely think the Mart is a super resource for furniture shoppers.  As I mentioned at the beginning of the article, I did attend the VIP Designer Day where the Mart provided lunch.  i was also the lucky winner of a door prize provided by Boyles.