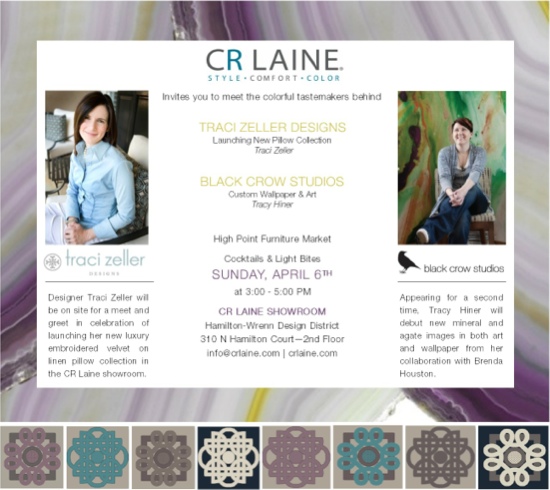 If you are attending High Point Market, I hope you'll stop by the CR Laine showroom (310 N. Hamilton Street) from 3 pm to 5 pm today (Sunday, April 5) for a cocktail party in celebration of my new luxury pillow collection and the gorgeous wallpaper by Tracy Hiner of Black Crow Studios.  I am truly overwhelmed by the amazing response to my pillows and extraordinarily grateful for the support of so many.  Holly Blalock — otherwise known as Design Genius In Charge (or so I suggest she should be known!) — has done an incredible job of designing and styling the CR Laine showroom, and it is an unbelievable feeling to see my pillows in such a beautiful setting.  A huge thank you to Holly, Stephanie and the entire CR Laine team for everything they've done to make this happen!  My appliqué pillows will be available as part of the CR Laine collection and can be viewed on their website.  Someone pinch me to make sure I'm not dreaming.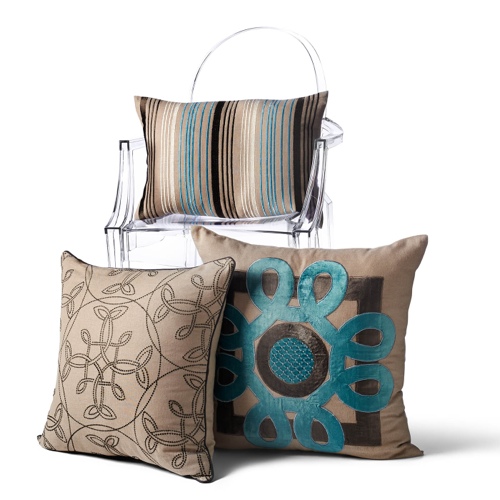 My embroidered styles are on display at the Design Accents showroom, so — when you visit the Suites at Market Square — please pop over there (SAMS G-5027)!  You may even find a sweet treat awaiting your arrival.  For those of you who were at my textiles launch party, do you remember the cookies?  Double yum.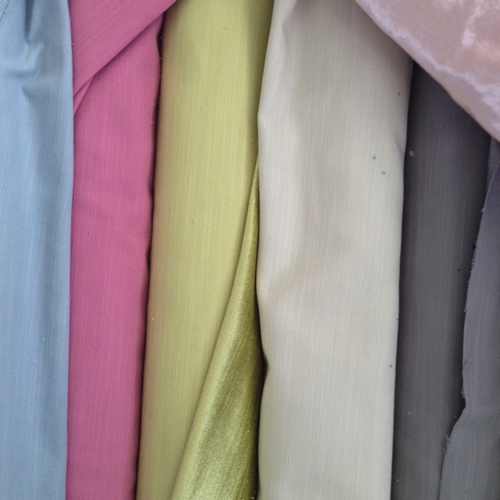 I'm already hard at work on fall introductions and am excited to share this sneak peek of the fabrics.  I am head over heels for the color palettes, which I have nicknamed "sorbet" and "macaron."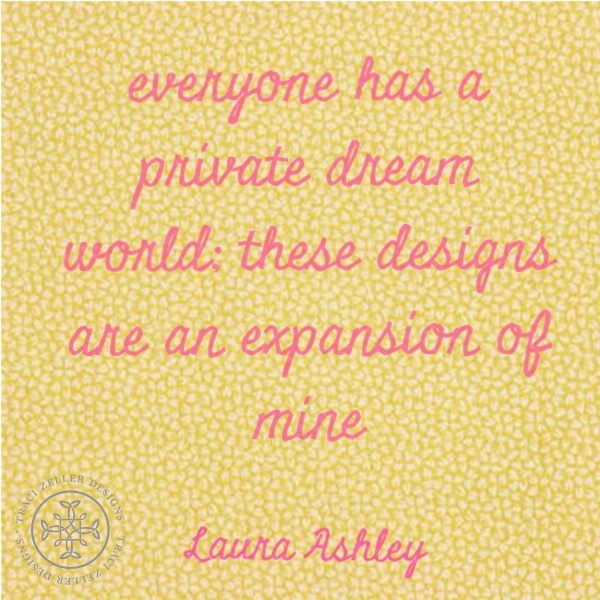 In short, I have so much to be joyful about today and every day.  Thank you for sharing it with me!
Isn't that a great quote?  It sums up how I feel … and gives you a little teaser about an upcoming project!   Pillow photography by Dustin Peck Photography.  Graphic by moi.