I am beyond, beyond, beyond flattered to be included in the brand new issue of QC Exclusive, Charlotte's guide to the good life.  You do subscribe, right?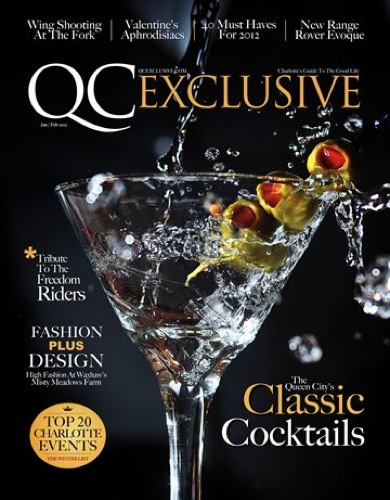 QC Exclusive's stylish and innovative fashion editor, Erica Hanks, creates a theme for each fashion spread — using real people in Charlotte and clothing from Charlotte-area stores.  Isn't that an awesome thing for a magazine to do?? This issue's fashion theme is Fashion + Design, featuring four architects and designers wearing amazing clothing.  So what do you think?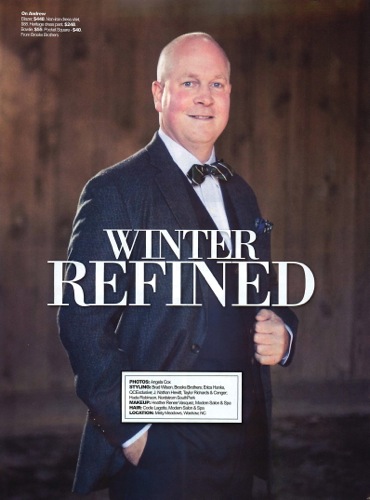 Andrew Woodruff from Woodruff Architecture is a perfect fit for "Winter Refined" in this classic outfit from Brooks Brothers.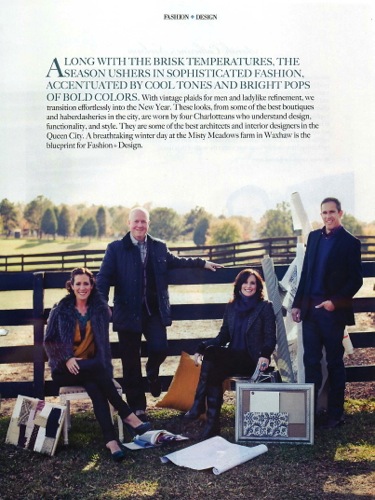 Here's a shot of the entire group — me, the super creative and talented Sarah Catherine Norkum of Sarah Catherine Collective, Andrew, and Michael Williams of Liquid Design.  Trust me, their portfolios are as impressive as their appearance is stylish!   Oh, and one of my friends did say she now wants to build a house … just to work with Michael.  Um-huh, I see how you are, J.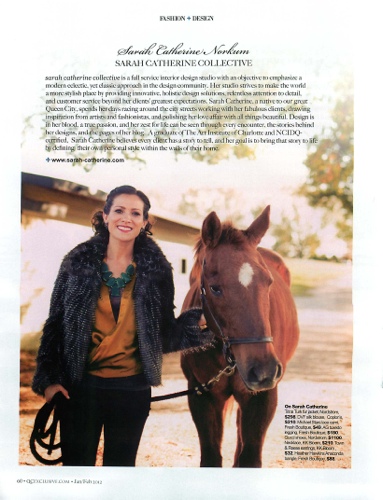 I was seriously coveting the amazing Trina Turk jacket that Sarah modeled.   Isn't she stunning?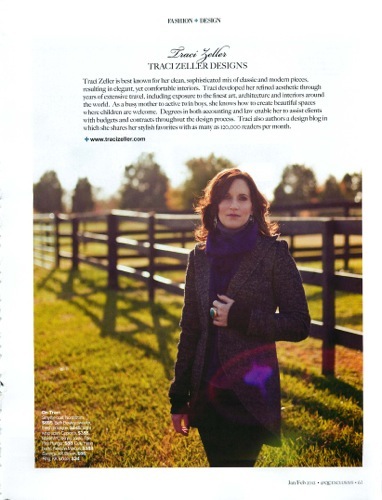 What is up with this crazy-serious expression on my face? I promise I was having more fun than it looks like in this photo!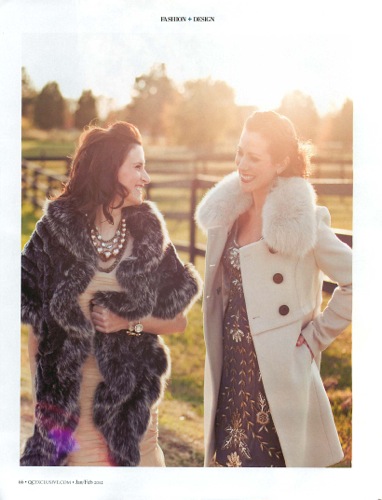 See?  It really was fun!  How could you not have fun with Sarah?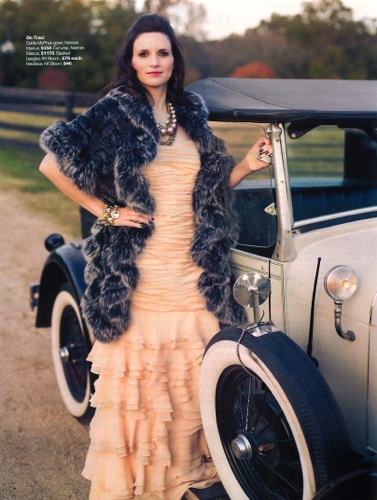 Wouldn't this fur throw be perfect for afternoon carpool?   I mean, this is what I wear every day! I totally do want those fabulous bangles from KK Bloom, though — you could throw them on with anything and look amazing!  Huge kudos to Erica for styling some incredible outfits, Heather Renee Vasquez and Codie Lagotte — both with Modern Salon & Spa — for some serious makeup and hair respectively, and Angela Cox of Angela Cox Photography for her unbelievable photography.
You can pick up your copy of QC Exclusive at upscale area retailers and restaurants including Monkees of Morrocroft, Modern Salon and Spa, Dean and Deluca, and Nolen Kitchen.  For a more comprehensive list of locations, click here …  but you should really subscribe.  You'll enjoy it just that much … and you won't have to hunt a copy all over town when they fly off the magazine racks (because they do)!