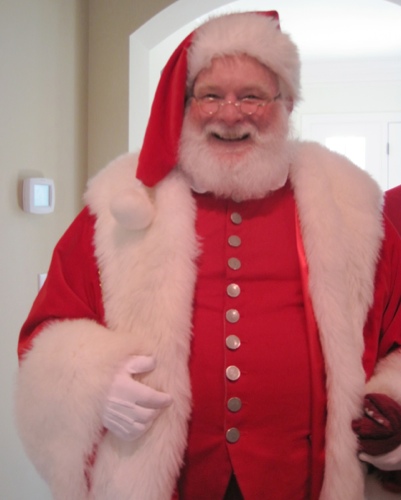 With Christmas on Tuesday, this is a big party weekend … at least in my world!  We are hosting my husband's team party on Saturday and — per our tradition — Santa makes an appearance at Christmas Eve day's breakfast before he sets out on his trip across the world.  Have I told you Santa lives on our street?  It's totally true.  I mean, would you want to live in the North Pole year-round?  Exactly.  Don't tell your kids.  Of course, Saturday is adults-only (although two rowdy twins are sure to make an appearance) and Monday is kiddos running around non-stop.  Even parents without twins get a little taste of "life with multiples" … because of all the same-age friends!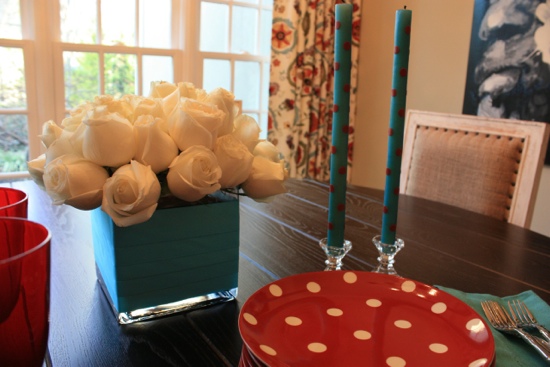 With that in mind, I created a holiday entertaining set-up that — making only a few adjustments — would work for both parties.  Yep, it's a two-fer.  I always suggest picking a color scheme and sticking to it … so I carried the same red and aqua color scheme through to my party planning.  Why not pick a color scheme for next year now … and then you can pick up coordinating items throughout the year?
I bought these polka-dot candles from One Kings Lane a while ago, and I was delighted to pull them out for Saturday's festivities.  I already owned the red and white Pottery Barn plates — I prefer "real" plates to plastic for all but the smallest of children — and I picked up aqua napkins to coordinate.  If you don't already have the color you need, Pier One is a great spot to get napkins in all colors.  For local readers, Blackhawk Hardware has a super selection!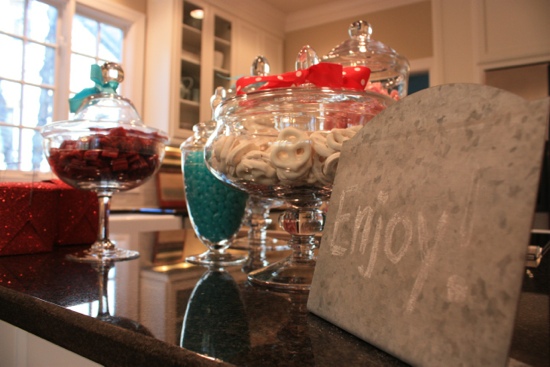 Everyone loves a candy buffet … and I love using color-coordinated candies!  I get so much use out of my glass jars in various sizes.  You can find these jars everywhere — and at all price points — but my favorite spots to find them are Michaels and Hobby Lobby.  Hopefully, guests are enjoying our yummy food and desserts, so I always provide take-home containers.  That way they can save a little something for later!  Oh, and look at the Container Store for the stainless steel candy scoops …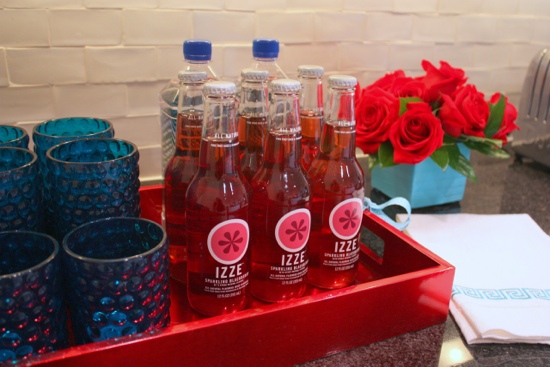 A self-serve drink station is a must-have, so that — when I get busy — guests are free to help themselves.  These aqua glasses look like vintage hobnail but are instead non-breakable polycarbonate.  Have you noticed the different ways that I use ribbon?  I love, love, love ribbon.  You see it tied to the tray handles — for a touch of aqua — and to the tops of the candy jars.  I didn't own aqua or red vases, so I simply wrapped satin ribbon around ordinary glass cubes.   When the party is over, I'll just take the ribbon off … and be ready for my next party's color scheme!
Are you entertaining this weekend?
P.S.  Oops.  First things first.  Twin A tested the beard.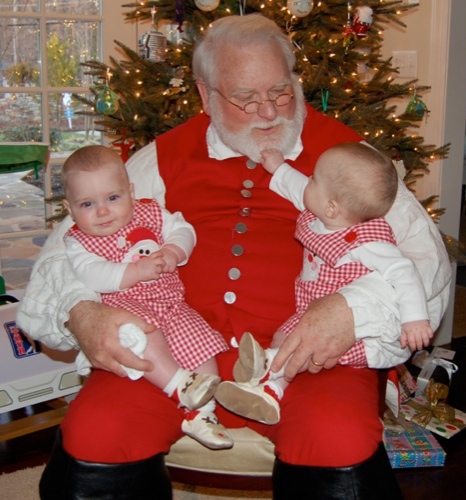 Photos by Katharine Fuchs for traci zeller designs.  Family photos by moi.