I've been a girl on the go lately!  From Miami to High Point to Las Vegas,  I've seen a lot of airports.  With that kind of crazy schedule, I'm thrilled that I finally purchased a Longchamps Le Pliage tote.  I've considered buying one before – after all, if you are looking in Charlotte, Nordstrom and B.D. Jeffries are both stocked up.  But I've always been irritated by the gold hardware on every single tote … at least in those stores.  I'm a silver-white gold-platinum wearing girl … and I just can't help but be annoyed by the combination of my jewelry with gold hardware on a handbag.   (Even though I have a two-toned watch.  Don't ask.  I can't explain it.)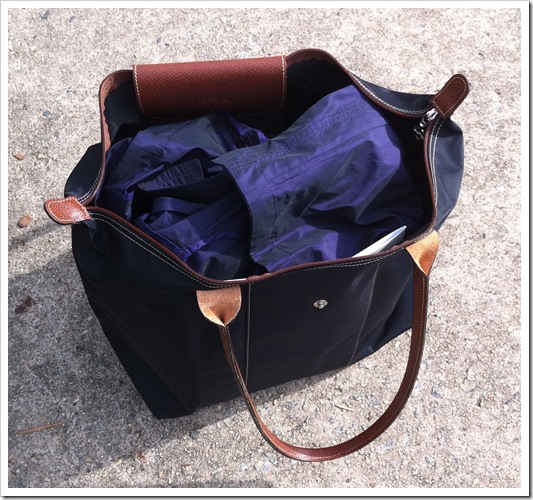 Then I realized you could order a custom Le Pliage – to your exact specifications, including color, size, handle length and metal finish on the hardware – for not too terribly much of a premium price.  In other words, the world is your oyster!  And it's delivered to your door in three weeks.  Bingo!
Here I am packed up and ready to head to my next destination.  I love how lightweight the tote is – perfect for lugging all of those materials I pick up while perusing furniture and accessory vendors – and just how much stuff I can cram into it.  That's my cute trench coat on top; I've been living in it because it's perfect for this fickle weather.  With travel being the way it is these days (you know, jam-packed into tiny planes), it's hard to stay stylish on-the-go … but my Le Pliage gets me at least a little closer!
What tricks do you have for traveling in style?   Bon weekend!