I feel as though I wished upon a lucky star this week!  Although I've had my share of the usual chaos (most often induced by two very active four-year old boys), it has been one of the best weeks I have had in a while.
To wit – my sweet hubby upgraded me to the iPhone 4.  (Hello, camera flash!!  Perhaps my impromptu blog photos will start looking slightly better.)  I'm very excited about two new projects, one light commercial and the other residential.  I helped an existing client, who recently moved into a new-to-her home, to style the accessories that she already has (and identify "filler" pieces that she needs).  I also got to see the "after" of her whole house repaint.  She literally had every inch of the house painted – walls, ceilings and trim – with colors that we selected several weeks ago.  (Maria, I'll have you know that we had to pay very careful attention to the undertones of beige, given the existing furniture and already-installed carpet).  Anyway, her house looks fantastic!!  It is truly almost unrecognizable from where it started.  Hopefully, I'll be able to share some after photos once the new window treatments are installed.
If that wasn't good enough, I also got some unexpected and amazing news – I won the iPad 3G giveaway on Facebook by Hinkley Lighting!  Woot!  Can you believe it?  I was totally beside myself with excitement.  I've been sneaking away with my husband's iPad … and, although he's been quite tolerant, he's found it more than a little frustrating.  Now that I (almost) have my very own iPad, I think I'm going to find it to be quite invaluable for client work.
Soooo, as a very small thank you to Hinkley (who in no way asked me to do this, nor did they even know that I have a design blog because I used my personal Facebook page to enter the contest), I decided to pick out my favorite Hinkley fixtures … because I really, truly do like Hinkley Lighting.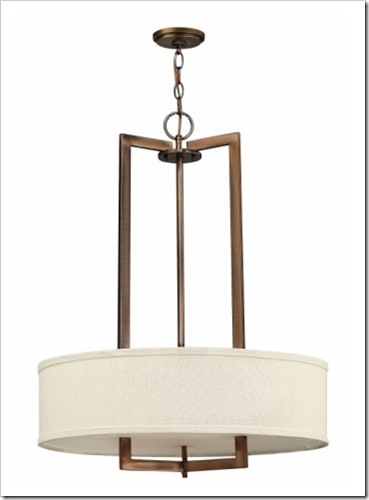 I love this Hampton fixture … along with all of the other fixtures in the Hampton collection.  I am brainstorming about how to incorporate one of these fixtures in my own house.  The Hampton flush and semi-flush mount fixtures are way more stylish than most fixtures of that type!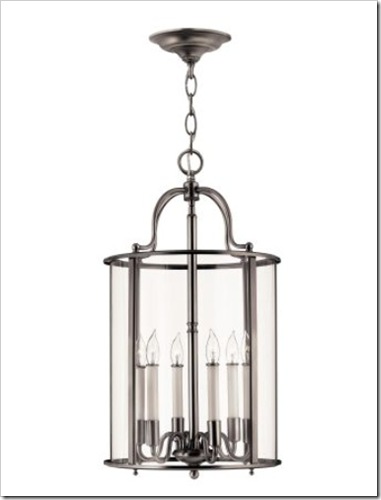 This foyer light is classically elegant – my favorite combo.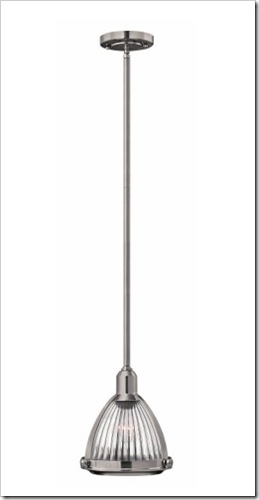 Aren't these mid-sized pendants fab?  The glass combined with the brushed nickel gives them almost a vintage industrial feel.  Of course, in most circumstances, you'd use more than one pendant.
As I often tell my clients, there is a whole lot of ugly happening in lighting … but Hinkley is one lighting manufacturer with a really nice selection that ranges from classic to modern.
Hinkley Lighting, thank you soooo much for randomly choosing me as your giveaway winner!   Stay tuned because apparently they will be launching another Facebook giveaway shortly … and I'm sure it will be just as amazing.  Here's the Hinkley Lighting Facebook page so you can go ahead and "like" them yourself.
All photos from Hinkley Lighting.  As a reminder, this is not a sponsored post.  There was no quid pro quo involved. I was super lucky to win the iPad.  Hinkley did not know that I am a designer or that I have a blog.