This weekend seems to be the weekend for Christmas parties – I'm scheduled for one on Friday, three on Saturday (morning, noon and night!) and one on Sunday – so I popped into my favorite nail salon (Ballantyne Nail Spa, but the Cotswold location) last night.  I always bring my own colors – mainly so I can touch up any little nicks that I might get – and I totally love the new colors I'm sporting today – Chanel's Paradoxal on my toes and Steel on my fingers.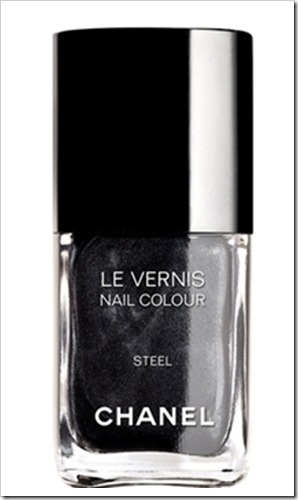 Paradoxal is a deep grayish purple with a bit of shimmer, while Steel is a charcoal gray black shade, also with a shimmer.  Steel is part of the limited edition Soho Story collection, originally released for Fashion's Night Out in Chanel's newly reopened Soho store.   Although OPI and Essie are my everyday brands (and seem to last longer, at least on my nails),  I love to splurge on "the" trendy color of the season … and it's usually Chanel.  Chanel's Particuliere was the color for summer … and I dare say that I have found my winter signature colors!
Are you headed to holiday parties this weekend?  Enjoy!
Photo from Chanel.