I am so tickled that the conversion of my family's unused bonus room (over the garage) into what I jokingly call our wine "attic" (because it's up, not down!) continues to draw such a strong reaction.  It certainly isn't the typical use of a bonus room, which I suppose is what makes the story so interesting!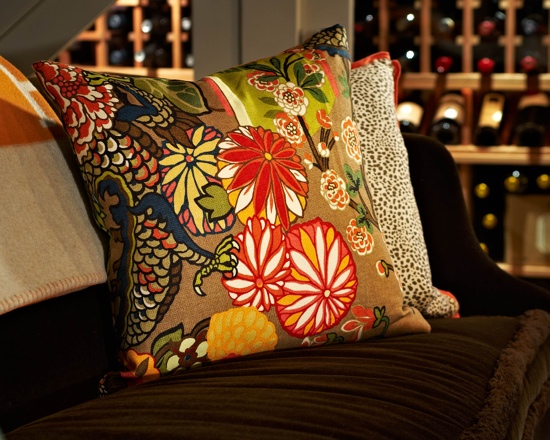 The back story is pretty simple.  Despite the large crawl space under our house (walking height!), there just wasn't a practical or cost-effective way to create a true wine cellar for entertaining and storage.  My husband — who has turned into quite the collector — was totally bummed out … which made me start brainstorming creative solutions!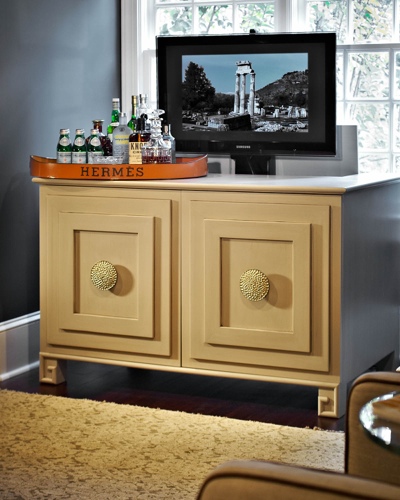 Before our twins were born, the bonus room housed our main (very large) television and was, for all intensive purposes, the "media room."  After our twins were born, and I spent approximately 23.5 hours per day on the sofa in the great room, I conceded that a television in the great room was a good idea.  Hence, television-watching in the former "media room" was quickly abandoned for the main level great room.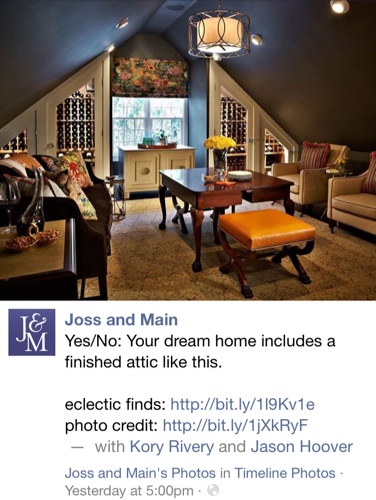 The biggest concern I hear — and the subject of quite the conversation on Joss & Main's Facebook page (thank you, J&M!  1,900+ likes makes a girl feel good) — is whether the wine can withstand the sometimes extreme temperatures of an "attic" space.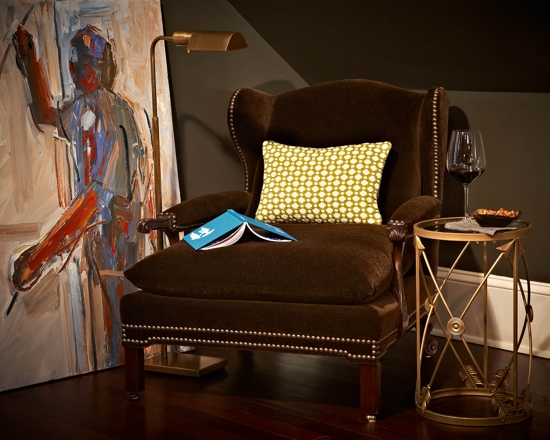 And that's when you need a fantastic builder to make it work!  Under the expert guidance of Sid Thomasson at Thomasson Construction Company, we reinforced the room's insulation and upgraded the HVAC unit that services our second floor and the bonus room.  Most importantly, each of the built-in storage cabinets — which I tucked into the eaves — has an additional cooling unit specifically designed for wine storage.  Plus, the cabinets are tightly sealed to keep the cool air in and any hot air out.  Sid took my vision and turned it into a reality!
For the behind-the-scenes scoop on the room's decorative elements, simply pick up the April/May 2014 issue of Charlotte Urban Home magazine.  It is such an honor to be included in their "Why the Room Works" series, and I dish all the details!  Be sure to check out Urban Home's new website, because it is faaaabuuuuulous.  (Read: fabulous in my drawn-out-because-I-really-mean-it Southern accent.)
Thank you, Charlotte Urban Home!
Interior design by Traci Zeller; wine room photography by Dustin Peck Photography.  What?  You don't already subscribe to Charlotte Urban Home?  You can read it online here or find a copy at top local resources like Tile Collection.  Oh, and as you can see in the photos, the wine room got a much-smaller-and-mostly-hidden television.  Just in case.