"Have more fun." "Learn best practices." "Increase productivity." "Grow my business." "Network with top designers." If you are an interior designer and any of these were on your New Year's resolution list — and I'm guessing they were — I have fantastic news for you!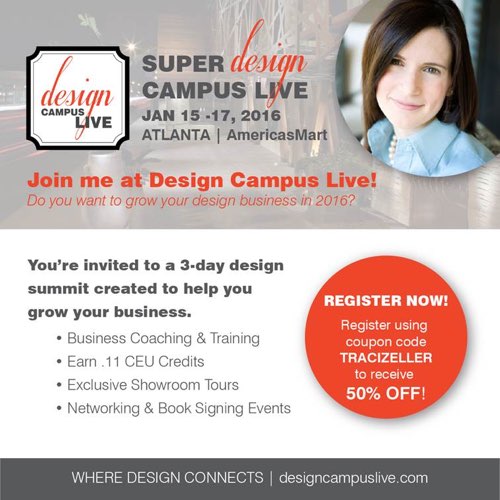 Super Design Campus Live in Atlanta is just around the corner … and you'll be able to put a big ole checkmark next to those resolutions before the month is out. Oh, and did I mention you can get over 1o hours of CEUs (Continuing Education Units)? Cross that off the to-do list, too!
The itinerary is jam-packed full of fantastic topics, including "The Great American Homes of William T. Baker" (majorly looking forward to this one) and "Instagram and iPhoneography Bootcamp" by the House of Brinson (majorly in need of this one). I'm thrilled to be speaking on a panel with my studio partner, Lisa Mende, and the fantastic Parker Kennedy boys. We're spilling the beans on "Designer Showhouses: the Mystery, the Magic, and the Mayhem!"
Plus, we have loads of fun. Events like these are my favorite places to reconnect with old friends and make new ones!
Will I see you there?