Another lesson learned:  I should never promise a post on Thursdays.  Twin B has occupational therapy and physical therapy on the other side of town, so it is always a hectic day.  For that reason, it's the one day of the week that I try to never take client appointments.  But it's only 10 pm EST so technically I'm still posting on Thursday.  Whew!  So, without further adieu, here's the new and improved playroom.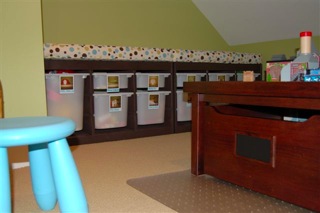 To my great chagrin (at the effort required, that is), I repainted the IKEA Trofast frames using Valspar Spray Paint in flat Velvet Brown … and followed that with the Miniwax Polyurethane Spray in Gloss (which was WAY easier than the Wipe-On Poly).  I also had cushions made for the top — out of Spirodots from Premier Prints — so that the frames function as (comfortable) extra seating … or a nice spot for an impromptu nap!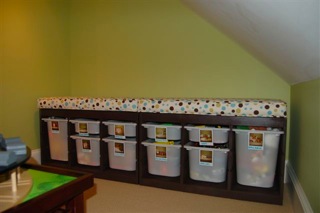 Can you tell that there's a train table between the two "banks" of IKEA Trofast frames?  When the boys outgrow Thomas, I'll replace the train table with bean bags or something to make that space a fun area to just hang out and play.  The cable outlet is also behind these Trofast frames — so, if I ever break down and decide to let them have a TV or video games in their playroom (don't hold your breath, boys) — I should be able to use the frames to hold the components.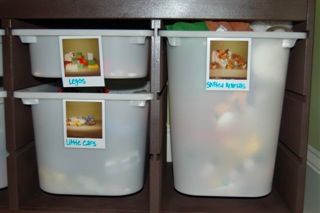 My favorite part of the playroom, however, is the Polaroid on the outside of each storage box.  I simply photographed a sampling of the box's contents and wrote a description of the contents on the bottom of the Polaroid.  I know it's not pretty … but my twin boys can't read yet.  Now, however, they can visually see exactly what belongs in each storage box.  In other words, there are no excuses for not picking up after themselves!  Now, they know exactly where everything belongs.
I also wrote the description in hopes of encouraging their association of written words with objects.  Once my twins learn to read, I will replace the Polaroids with vinyl lettering.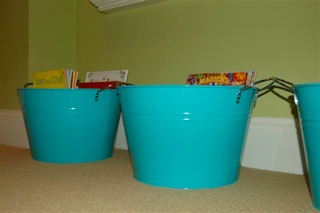 Books live in these bins, which you can also see in the original photos.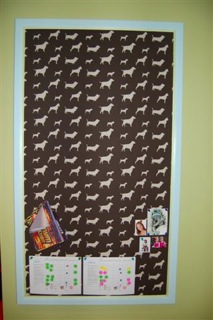 Here's the bulletin board in action — keep in mind that it's not "styled" at all, but just how it looks every day.  Right now, I'm using it for their responsibility charts (at the bottom), their Monster Truck flags (awesome, right?) and photos of  family and friends.  Once school starts in the fall, I'm sure the top will start to fill up with artwork.
So what do you think?  You know I love the saying, "a place for everything and everything in its place."  I think that totally worked in the playroom!