With a little creativity, certain rooms can function well in more than one capacity!  Remember Bee Cottage, the fantastic feature in House Beautiful where Frances Shultz renovated the most charming cottage?  Her lovely dining room doubles as a library for her books.  The dining table can easily serve as a desk, and bookshelves store treasured volumes and dishes.  The decorative accessories are cohesive — notice how she continued the prints above the tall bookshelves — and the room works for how she lives.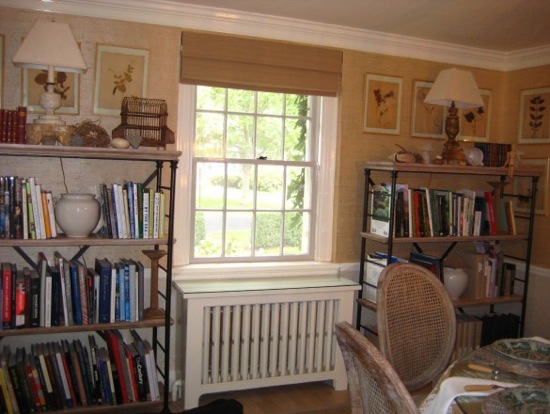 While I don't recommend combining breakables on low open shelving with young toddlers (can you say, disaster waiting to happen??), you could easily have a casual breakfast room or keeping room multi-task as a playroom.  Pack the dishes away, store bins on the shelves … and you are good to go!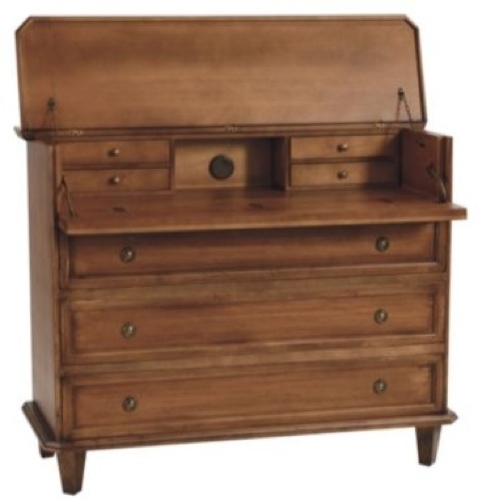 It's no problem if you already have a regular-sized bed and would prefer the room be "more" bedroom and "less" office.  Multi-tasking furniture pieces fit the bill and can be found at just about every price point.  Take Ballard Designs' Voltaire Chest.  Closed, it looks like a clipped corner chest of drawers — perfect for an accent piece or even a nightstand.  Once you've flipped the top, however, you find four drawers, cord management and plenty of room for a laptop.
I recently tucked this piece into an unused corner of a family room.  When company comes over, Mom can close the top and display pretty accessories — but for everyday use, she can check her email or pay bills while her twins +1 play or watch television.  Art hangs on the wall above the chest, and it creates a beautiful, functional moment in an otherwise wasted space.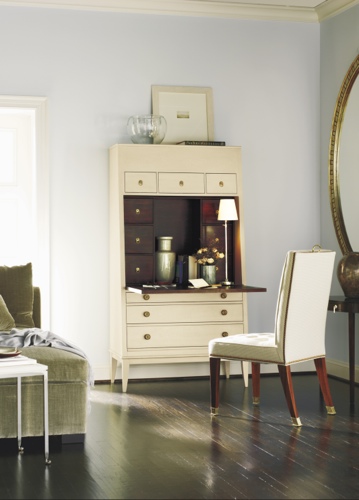 The Hallings Secretary by Thomas O'Brien for Hickory Chair is another one of my favorite pieces — partly because it is gorgeous and partly because you can create a functional office space in just about any room.  One word of advice:  If possible, try to keep the home office out of the master bedroom.  The master bedroom should really function as a sanctuary … a place of peace and respite.  It can be hard to relax, much less sleep, if a stack of paperwork is staring you in the face!
Really, the list goes on and on.  Sunrooms make wonderful playrooms.  Add a cushion to IKEA's Trofast system and you have a window seat and storage in one.  And I think I've told you that the Baker sideboard in my own living room acts as toy and DVD storage.
What's your favorite way to multi-task?  Please don't tell me you do squats while you brush your teeth.
Product photos from Ballard Designs and Hickory Chair.