I'm signing off for a few days, as I am heading to Hickory Chair University tomorrow … where I'll have the pleasure of learning all about how Hickory Chair's products are MADE (not manufactured).  I cannot wait to experience their craftsmanship in person.  A huge thanks to Laura Holland and the entire Hickory Chair team for inviting me to participate!  Don't worry – I plan to bring you along.  You can be sure I'll share everything with you here … in exacting detail.  You'll feel like you were there, too, I promise.  But, if you just can't wait until my blog post comes out, follow me on Twitter (@tracizeller) for the blow-by-blow!
Until I'm back, let me leave you with a totally fabulous bedroom furnished entirely by Hickory Chair.  Isn't it delicious?  That gorgeous bed is the Candler King Bed designed by Suzanne Kasler.  The fabric on the chairs is called "Daisy, Daisy" and is a David Hicks by Ashley Hicks design for Groundworks (Lee Jofa).  I would definitely have sweet dreams if I got to sleep in this room every night!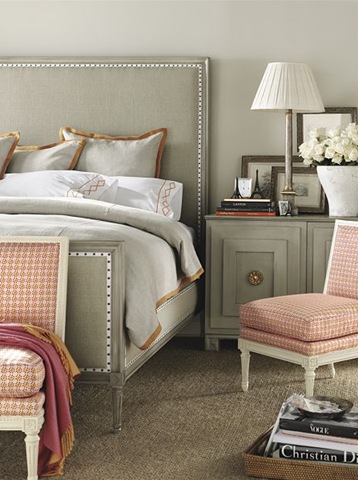 Try not to drool … and I'll see you back here on Wednesday!
Photo from Hickory Chair (and as seen in Canada's Style at Home, March 2010).