If you ever watched The Rachel Zoe Project when Rachel or Brad went to dress a celeb for one of her big events, you'll remember that they brought a styling kit packed with all sorts of things — mainly Spanx and other undergarments.  After all, you can't have a red carpet moment ruined by over-exposure … or those pesky lumps and bumps that "normal" people have!  If Rachel or Brad didn't have the right things in their styling kit — quel désastre.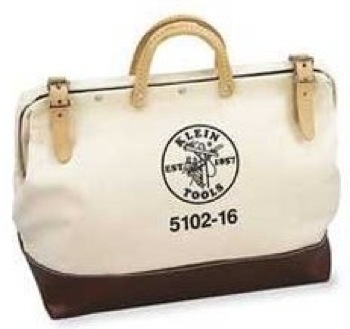 Well, I have my own version of the styling kit, and it stays in the back of my car at all times.  I suppose you just never know when there might be a decorating emergency! Really, I attribute my ever-ready tool kit to the saying "proper prior preparation prevents poor performance" … otherwise known as my father's oft-preached version of the Scouting motto "Be Prepared."  (Try saying that five times fast.) And I do appreciate knowing that I have my essentials whenever I need them!
So what do I consider the essentials?  First things first — the Klein 16″ canvas tool bag holds all of my gear in style.  After all, a designer can't (shouldn't!) look like a schlub.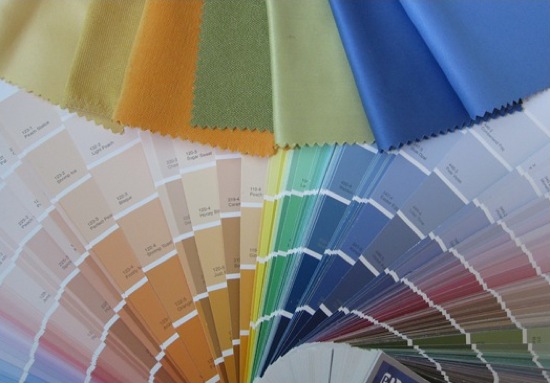 Inside you'll find three fan decks — one from Benjamin Moore (what I use most often), one from Sherwin-Williams (what many homeowners have) and one from Farrow & Ball (because they have beautiful colors).  I whip these out if I need to match a client's existing paint, furniture or finishes for my use later … or to talk general color direction.  For actual color selection, I use my large color samples.  (If you are selecting colors on your own, please do yourself a favor and re-read Maria's fabulous and very informative blog!)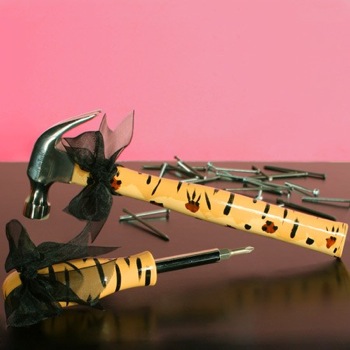 There's also a level — because anything crooked is a pet peeve — along with pink work gloves and a leopard-painted hammer and screwdriver. After all, shouldn't tools have style?! I bought mine locally, but this is the same set.  Never fear — as per my design philosophy, I didn't sacrifice function for style.  The screwdriver has 2 Phillips and 2 flat head attachments.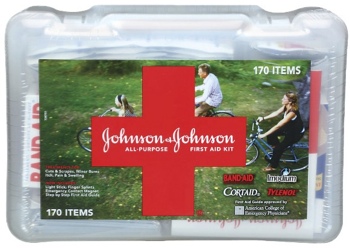 I've also packed a first aid kit … partially because I need one handy for my kiddos anyway … and partially because it is easy to get a boo-boo when opening boxes or performing other tasks on install days.  Yep, I broke out a Band-Aid just last week.
Specifically for window treatment installation, I have a spool of ribbon (to train drapes to keep their folds) and tiny scissors.  Of course, I have a measuring tape — what designer doesn't? — and I also keep a roll of painter's tape.  I use that stuff for everything!  With all of these things tucked in my bag, I find myself prepared for almost everything.  And the time I end up unprepared, you can bet I've just discovered the next thing to add to my tool kit!
Do you keep a tool kit handy?  Am I missing anything?
Photos from Amazon, Maria Killiam (xo!), The Stepping Stone, and Target.