I'm loving my "everybody's favorite everything" series!  It's so fun to see what my fellow designers and bloggers love, and I am quickly finding new favorites of my own.  I have been especially interested in everyone's choice of sheets, however, because this is an area that I've been thinking about lately.  I love to sleep (perhaps because I don't do it as much as I'd like!), so having a lovely, inviting bed is important to me.  So let's talk sheets!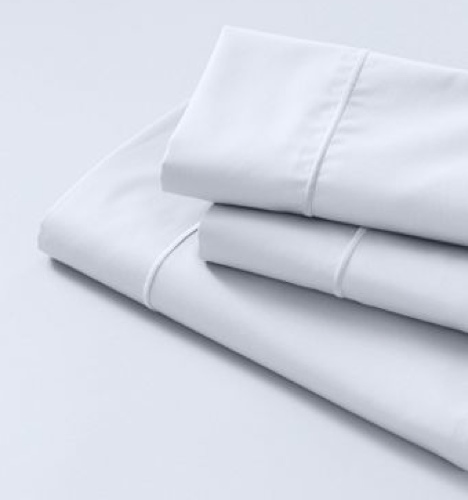 My long-time favorite has been Land's End 400-count No Iron Supima Sateen Sheet Set.  They feel amazing … and they look great straight out of the dryer.  Since the last time I ordered, Land's End added a 600-count No Iron Ultimate Supima Sheet Set … so I might have to try those the next time I order.  One reviewer commented that the 600-count sheets are crisper than the 400-count, which I take to mean that they feel more like a cotton percale than a sateen.  But that could be a nice change!  Perhaps the best part about the Land's End sheets is the price – right around $200 for a king-sized set, including monogramming.  (Because we all know I love a monogram.)
As a "feel better" treat, I purchased a set of Peacock Alley pillowcases after my house was burglarized.  (The crooks stole my pillowcase presumably to carry away my jewelry.  And I thought they only did that in the movies!)  The pillowcases are fantastic, for sure … but I have to iron them after taking them out of the dryer.  It's not a quick run-over either; I really have to press them.  I suppose I could leave them as-is, but I just don't care for the wrinkles.  So even though the pillowcases are great, I'm not going to buy a set of sheets … because (just keeping it real) there is no way I am going to iron my sheets.
Am I crazy?  Do you iron your sheets?  I think I actually iron more than most – and I love my Jiffy Steamer – but, for me, sheets are just way too time-consuming … and awkward.  I am tempted to try Marianne's favorite, the Restoration Hardware Italian Hotel sheet set, now that I see they come with an easy-care finish.  Laura's favorite, the 700-thread count from The Company Store, are on sale for an unbelievable price ($123 for a king set!) and they sound fantastic, but – any time it doesn't say "easy care" or "no iron" – I'm nervous about wrinkling.
What sheets are your favorites … and why?
Updated 3/30: Laura says her sheets don't wrinkle.  Score!
Photo from Land's End.