I find Maria at Colour Me Happy to be so inspiring, and I love the recent post in which she reviewed her 2009 goals and set some new ones for 2010.  At the end, she challenged any reader with a blog to create their own list – it's the blog version of "tag, you're it" – so I'm taking her up on her challenge.  Interestingly, I had already started a similar post and then tabled it.  Thanks for the push, Maria … and here I go with my goals!
(1) I want to live a healthier life.
I love having the house all to myself, which means I often stay up too late enjoying the quiet.  But I need my beauty sleep … so if I'm up late, I nap the next day while my boys nap … which means I'm up late again.  You see the havoc this is wreaking on my sleep cycle.  I'm also one of those that "eats to live" (rather than "live to eat") … and I have a terrible habit of skipping meals.  Of course, that means I either eat too much or choose poorly when I do finally eat.  I suppose this is why I'm not Kate Moss-skinny. Oh well. Life is too short to worry about that!
My exercise routine currently consists of running after, and lifting, my toddlers.  I used to run four miles every day … so, needless to say, I just plain need to move more.  Really, anything would be an improvement.  Better compliance with my skin care routine couldn't hurt either!
(2) I want to be a better blogger. I love to blog – really, I do – but, between client work, my volunteer commitments and family time, I haven't done it nearly as much as I would like to.  So my plan is to create a monthly "editorial calendar" (doesn't that sound fancy?!?) to make it easier to blog every weekday.  Let me know if you have ideas for things you'd like to read about!
I also want my blog to get some type of public recognition; I'm not picky about what –  a mention in the Washington Post Blog Watch, a nomination (and decent showing!) for an Apartment Therapy Homie Award in 2010 … you name it, I'll take it!
(3) I want to have my work published in a shelter magazine. And as Maria said, hey, if nothing else is available, I'll take the cover!
(4) I want to learn some new skills.  Specifically, I'd like to be a better photographer, and I really need to learn how to use Photoshop.  I'm sure you can tell from the photos I've taken that my blog will also benefit from these skills!  I also want to learn how to arrange flowers … which will help with my staging.  But really I just want to be able to make beautiful arrangements in my own home.
(5) I want to live a life of gratitude – for my family, friends, clients … and life!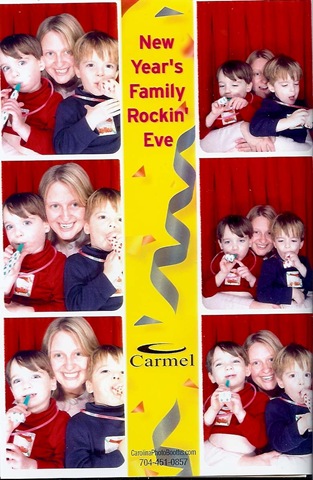 My boys with their favorite babysitter
Unbelievably, my twin boys will turn four in April. I love being their mommy – even when they are driving me crazy! – and I'm all too aware that real school is drawing closer and closer. I need to "smell the roses" because these days are passing too quickly (even when they feel never-ending, which they often do).  Also, my boys are old enough now to do some really fun things, so I want to take advantage of that.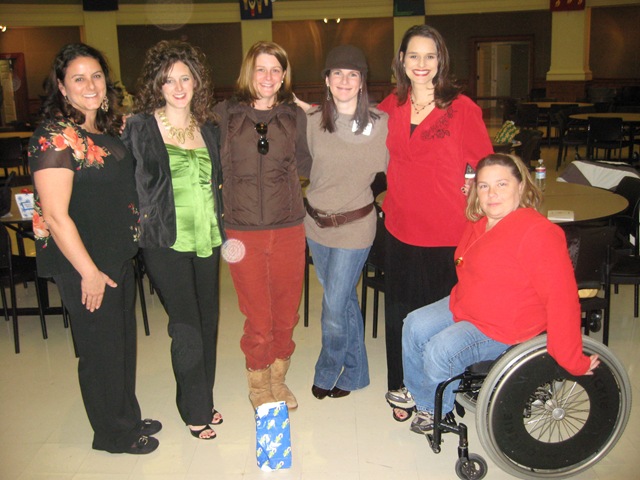 Me (in the hat) with friends from Charlotte Mothers of Multiples
I'm also fortunate to be blessed with some really great friends, and I need to make sure they know how much I appreciate them. I have totally loved reconnecting with friends from the past – high school, college, etc. – on Facebook. Just because you don't see or talk to someone everyday doesn't mean they aren't still in your heart.  Of course, I can't forget gratitude for my clients.  I am honored that they trust me with their homes.
Whew!  I think that's it … at least the big ones.  I'd love to hear what you are aiming for in the coming year.
Enjoy the first week of 2010!