Happy Friday!   If you've been reading for a while, you know that the premise of "friday's five minute fix" is to give you easy, practical ideas to enhance your home in five or so minutes.  Because whether you are sleeping in three hour increments, supervising homework or working long hours (or all of the above), sometimes all you have is five minutes … and you still want — and deserve — a chic, sophisticated home.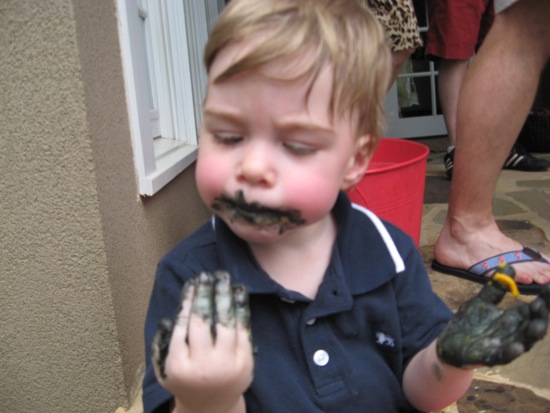 Today, I challenge you to throw away the paper and switch to cloth napkins!  There is something inherently more enjoyable about using a cloth napkin than a paper one … and it definitely looks more polished.  Have you ever been to a posh restaurant with paper napkins?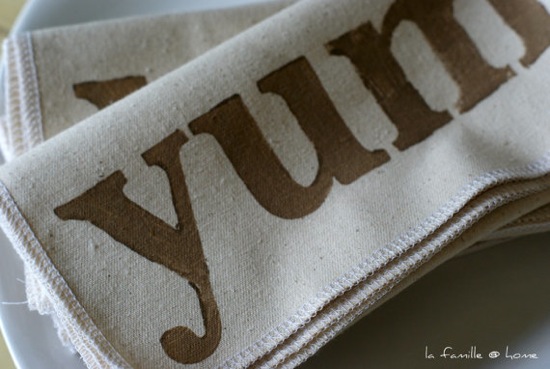 Yum Cloth Napkins by La Famille at Home
Plus, it feels good to be environmentally conscious … not to mention economical.  A stack of pretty cloth napkins won't cost much more than a month's supply of Caspari — and you can use them over and over again.  For casual use, it's perfectly appropriate not to iron them — so don't let that worry hold you back.
Eat Well Napkins by Nicole Porter Design
Here are a few of my favorites from Etsy — and, of course, you can also find them anywhere from Home Goods to Pottery Barn to Williams-Sonoma.  My twin boys think the "Mind Your Manners" Napkins are hilarious … and the reminders don't hurt either!  I have my eye on a set of cute girls for my daughters-in-law — you know, in approximately twenty-three or so years — and I can't having them think I didn't raise my boys right.  Hee hee hee.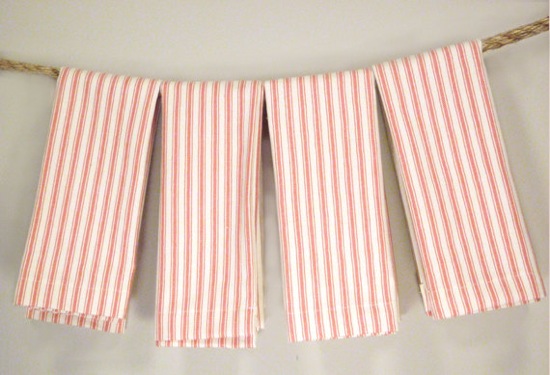 Red French Ticking Napkins by Un Original Americain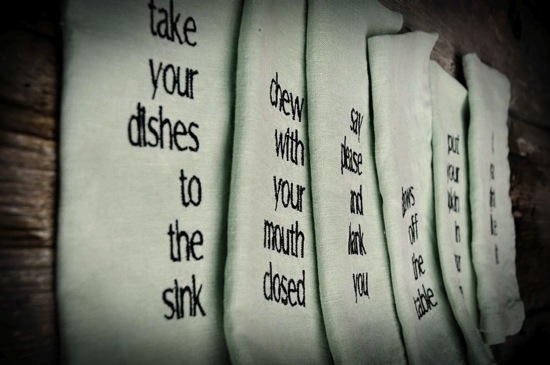 Mind Your Manners Napkins by Betsy Grace
I do keep a stash of paper napkins — mainly because I love all of the fun colors and patterns but also because there are certain occasions (say, field trips to the farm) that require entirely disposable lunches.   Even still, I'm happy to be 90% cloth.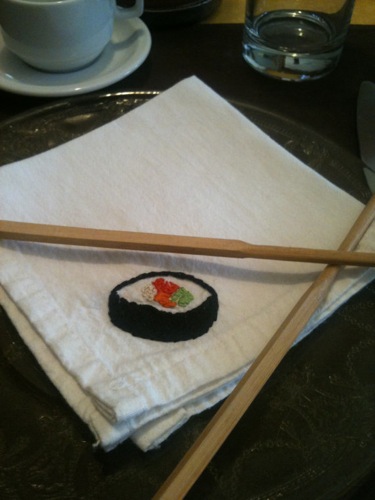 Sushi Cloth Napkins by WrenBirdArts
Oh, one additional tip — When you first put cloth napkins in your preschooler's lunch, write the teacher a note so the napkins don't get thrown away by an over-eager toddler.  You can probably guess how I know. And before you know it, they'll be telling their friends to "reduce, reuse and recycle."
What kind of napkins do you like?
Isn't that little boy adorable!  He's an identical twin friend of my boys who just happened to get the "coal car" cupcake at Henry and Charlie's train-themed second birthday party.  Product photos from Etsy … and thanks to Amanda for first introducing me to Betsy Grace and her napkins!