Whew!  I was saved by the bell … or should I say, hallelujah to Michael's for still having a Wilton gingerbread house kit in stock on Christmas Eve (of all days).  After my pre-baked bungalow totally failed to show up (ordered on December 12, thank you very much), I was scrambling to put together my entry for the first annual Designer Gingerbread House competition … hosted by Stacy Naquin Interiors and judged by Tobi Fairley and Jamie Herzlinger.  Oh, the pressure!!!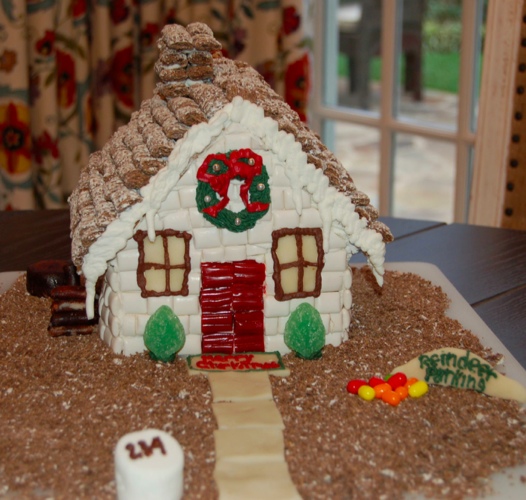 Especially considering the time crunch, I am more than pleased with Team TZD's entry — a cozy painted-brick cottage tucked back into the woods.  The dark shingled roof is especially charming after a fresh dusting of snow.  Dark brown trim draws attention to the window casings and mullions, while a red paneled front door welcomes all who pass by.  A "Merry Christmas" doormat and "Reindeer Parking" (complete with snack) right up front invite Santa and all guests inside to warm up by the fire!  These prepared homeowners won't run out of wood, because a nice stack is right outside.  Oh, and Santa can check the address to be sure this house is on the "nice" list!
The main ingredients for Team TZD were the Wilton pre-baked gingerbread house kit, Kellogg's Frosted Mini-Wheats "Little Bites" in chocolate (whole for the roof and shredded for the ground cover), cherry Twizzler bites (for the paneled front door), copious amounts of Eclipse gum (bricks), marzipan (dyed brown for the firewood and chopping block, also used for the stone pathway, windows and parking sign), Royal Icing (wreath, bow, window casing and mullions, and writing on doormat and parking sign), marshmallow (address sign), miscellaneous candy (reindeer food and front bushes), and silver mini dragees (ornaments on wreath).  Can you just say that I was quite a sight at the Taj Mah-Teeter self check-out?
What was even more enjoyable than the construction of Team TZD's gingerbread house, however, was the pure joy that my Henry took in creating his very own gingerbread house.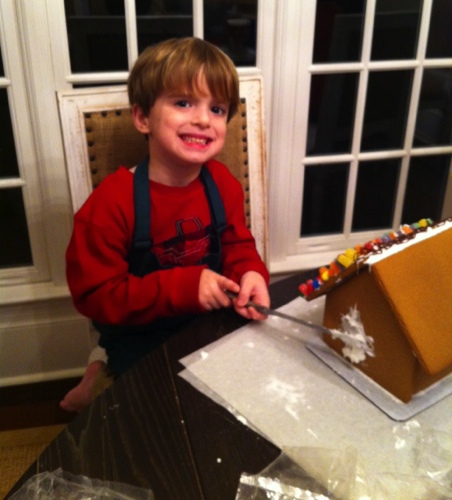 Daddy helped to assemble the house, but Henry decorated from start to finish.  Twin brother Charlie was completely uninterested in serving as sous-chef.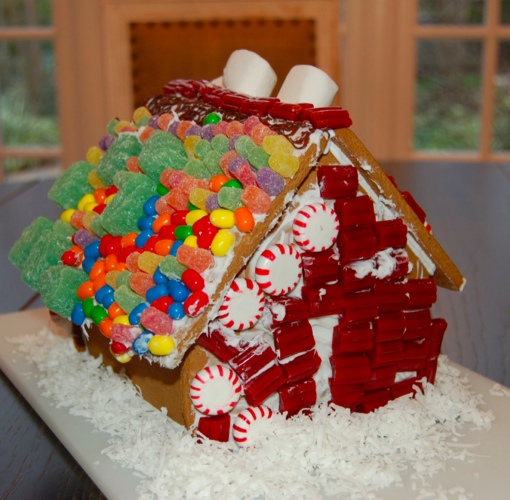 And here is Henry's creation!   Henry is lobbying for a "five years and under" age category in the competition.  His design philosophy can be summed up as "More Is More."  Despite the fact that his cottage failed inspection due to numerous Gingerbread Code violations (the extra candy on one side threatens the structural integrity of the roof), Henry is confident that his unique "maximalist" aesthetic will ensure that his design stands out in a crowded marketplace.  Henry was overheard remarking, "If Frank Lloyd Wright can be famous for building roofs that leak, so can I."
The main ingredients for Team Henry were the same Wilton pre-baked gingerbread house kit, every single piece of candy in the kit (on one side of the roof), two marshmallows (on the other side of the roof), cherry Twizzler bites and Brach's Star Brites peppermint candy (for house front), Royal Icing and shredded coconut (snow).
All you need to do to vote on our entries is to visit Stacy Naquin Interiors' Facebook page and "like" the respective photos.  Just so you know, Henry asks me approximately every ten minutes how many "likes" his house has — and twin brother Charlie is fond of spontaneously proclaiming "I hope Henry wins!" — so I will greatly appreciate each one of you who takes the time to visit Stacy's Facebook page, weigh the merits of all entries, and — of course — vote for the house that you deem most worthy.  Hint, hint, hint.
How did you spend Christmas Eve day?