* this giveaway is now closed *
Isn't it fun to entertain … and especially during the holidays?  At this time of year, I just love how festive everything is — from the food to the table settings to the centerpieces.   So guess what?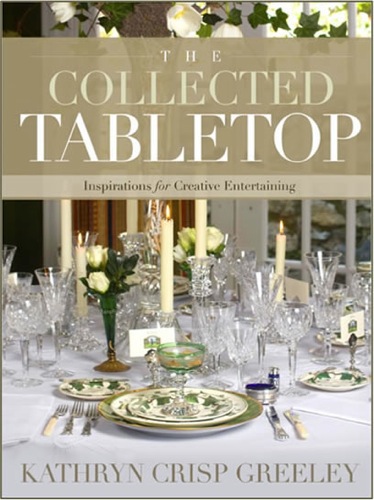 Inspired by Kathryn Greeley's marvelous new book, The Collected Tabletop, I — along with several of my very favorite designer friends — am hosting a virtual progressive dinner … and you're invited!   The benefit of doing it virtually is that there's room for everyone … and not a single dish to clean afterwards.
In case you missed our first stops, Kathryn herself welcomed us to the party.  The butlered appetizers at Jennifer's were absolutely divine.  Can you guess my favorite? Gwen knows that I adore goat cheese, so I think she may have picked that salad just for me.  Now it's my turn to serve the main course … which means the pressure is on!
Of course, I set the table a day early using my very favorite holiday china — Tiffany Holiday from Tiffany & Co. I mean, if it comes in a blue box??  Surely Kathryn agrees.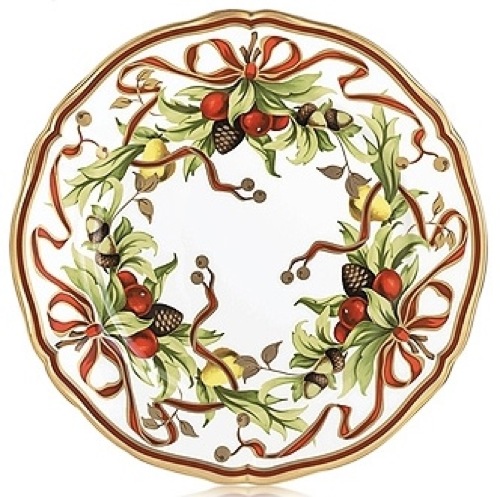 My Bamboo by Tiffany & Co. silverware seemed a bit too modern, so I decided to borrow Francis I by Reed and Barton from my hypothetical grandmother.  I love the pattern, even if it is more ornate than I usually lean towards. Fortunately, my Waterford Carina crystal is simple and clean — so the china and silver can really shine.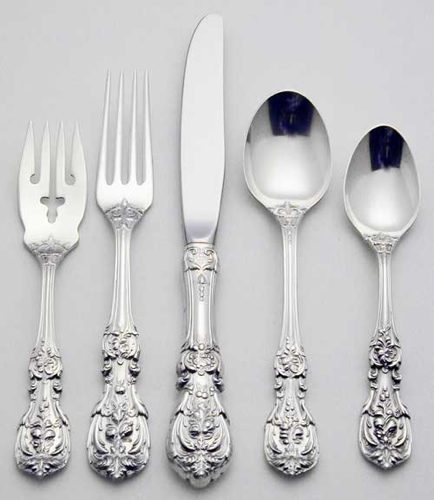 These hand-tied bouquets — kept low so as not to impede conversation — complement the china beautifully … and this girl can never resist any combination of roses and hydrangeas.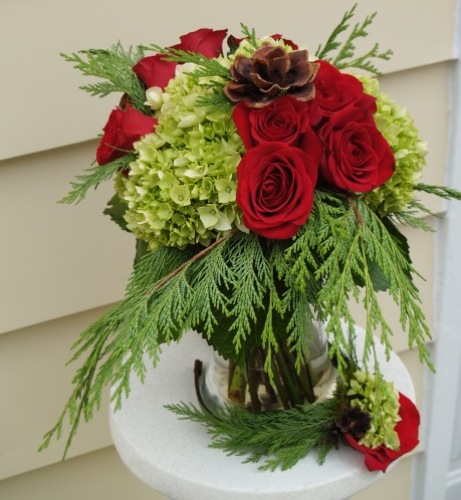 Because the table was finished, I was able to spend the last few minutes before you arrived making sure the food was perfect.  Oh honey, did you check the temperature on the tenderloin? That's right — you almost forgot that my husband does most of the cooking in our house!  The Stuffed Tenderloin of Beef looks amazing, but I am especially blown away by the side dishes.  He has outdone himself with the presentation of the Potatoes Au Gratin …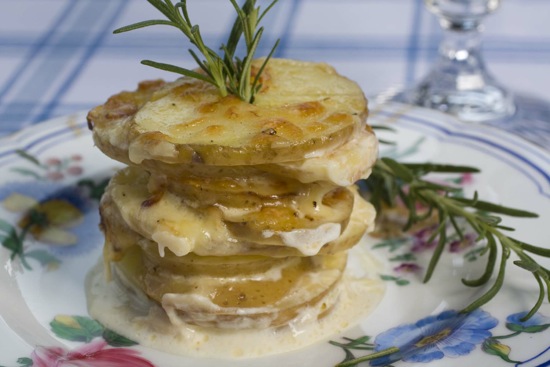 … not to mention the Haricots Verts Bundles.  (As Nancy might say, that is "fancy" for — what we Southerners casually call — "green beans with fatback."  Either way … yum.)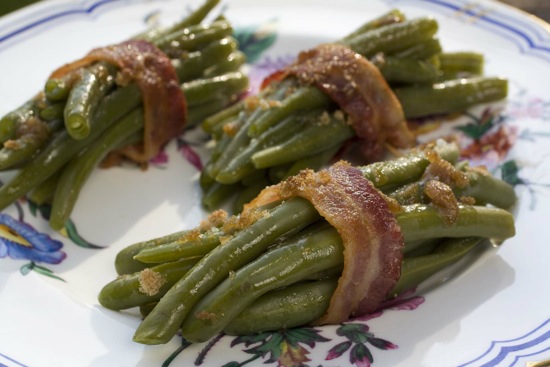 What?  You loved the Haricots Verts Bundles so much that you want to make them yourself?  Well, of course, I'll share; my hubby can't be proprietary about the recipe if he got it from The Collected Tabletop.  Like every good Southern girl, Kathryn loves a Junior League cookbook.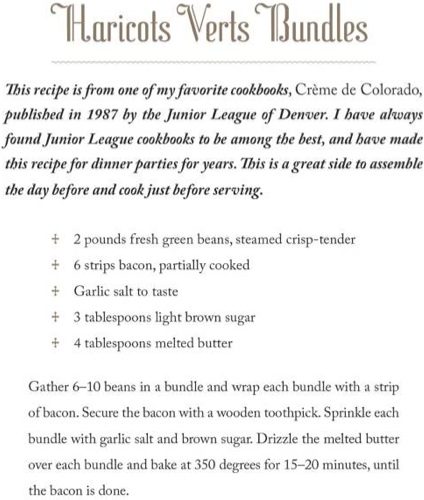 I mean, isn't it amazing what brown sugar and bacon do for green beans?  Shocking, really.  Don't worry — you can find the other recipes in Kathryn's book.  Oh, and one more thing before you head over to Stacy's for dessert — the party favor!
One of my guests will take home her very own autographed copy of The Collected Tabletop as well as an apron and a bookmark.  To enter, just leave a comment below.  I'll draw the lucky winner at random on Christmas Eve … so you'll know if Santa will be bringing an extra-special treat to your house this year!
What will you serve for Christmas dinner?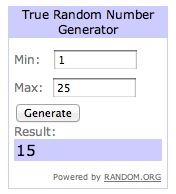 UPDATE (12/26):  Congratulations to Design Chic, lucky 15 and the winner of The Collected Tabletop giveaway!
Remember to visit my fellow designers and bloggers — Kathryn Greeley, Jennifer Brouwer, Gwen Driscoll and Stacy Naquin — for more recipes and inspiration from The Collected Tabletop.  I hope you'll be inspired for your own holiday entertaining!
Photos from The Collected Tabletop, Tiffany & Co. and Alluring Blooms.